Home > India > Cricket > Interview


Discuss |
Email |
Print | Get latest news on your desktop


The Rediff Cricket Interview / Dhawal Kulkarni

'This is the reward for my hard work'

February 13, 2009



Dhawal Kulkarni's inclusion in the Indian Test team for the New Zealand [Images] tour may have raised a few eyebrows, but there is no doubting that he was rewarded for a consistent showing in domestic cricket.

The young pacer first provided glimpses of his potential in the inaugural Indian Premier League [Images] last year. Playing for Mumbai Indians [Images], he ended up with a tally of 11 wickets from 10 matches at 21.45 in the Twenty20 [Images] league.

That spurred the 20-year-old to a different level altogether. A confident Kulkarni then rocked domestic cricket for a season haul of 42 wickets, which was mainly instrumental in Mumbai winning the Ranji Trophy for the 38th time.

Thus, for those following the domestic circuit it was not surprising when the selectors named the Mumbai pacer in the Test team for the upcoming tour of New Zealand, where conditions are a fast bowler's dream.

Kulkarni spoke with Chief Correspondent Harish Kotian about his selection and what went into it.

 

How excited are you at being selected to the Indian Test team?

I am very excited and very happy to be a part of the Indian team. I have worked very hard for it and I think this is the reward.

What were you doing when the news of your selection was broken? Did it come as a big surprise?

I was very happy when I heard of the selection. When the news broke out, I was practicing with my Mumbai team mates. The reporters broke the news to me. I was delighted on hearing it.

I must thank my parents; it is because of them that I am here. They have put in a lot of effort to ensure that I keep doing well.

How important a role did the Indian Premier League play in helping you get so far? You came out of nowhere and grabbed people's attention with some top-notch performances in the Twenty20 tournament last year.

I think playing with stalwarts like Sachin Tendulkar [Images], Shaun Pollock [Images] and Sanath Jayasuriya [Images] taught me a lot. I got to know many things from them. They shared their experiences with us, gave us confidence and guided us through the IPL.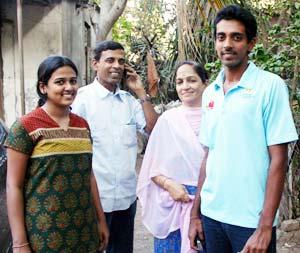 In fact, you interacted a lot with Pollock during the IPL. What were the things you picked from him as far as fast bowling is concerned?
Yes, I did interact a lot with him during the IPL and it certainly helped me. He taught me some variations, which can only be used in the Twenty20 and ODIs.
You also had a chat with Glenn McGrath during that same tournament?
Yes, I spoke to him. He asked me not to get harsh. He told me, 'If you don't get wickets it is okay, because it is part of the game. You don't always get wickets; you have to work very hard on your bowling so that you can bowl wherever you want during a match.'.
Last year, you also had a stint with renowned fast bowling coach Troy Cooley in Australia [Images], after which you made a conscious effort to improve your pace. What were his inputs?
It did help me a lot, because he worked on my technical skills and fitness during that stint in Australia. Those things really helped me during the season.
Following the IPL, you seemed to have gained in strength. In your first season in the Ranji Trophy you finished as the highest wicket-taker with 42 wickets. What do you attribute that success to?
I think the confidence I got from my performances in the IPL helped me a lot in my first season in domestic cricket. I interacted with so many great players during the IPL and it boosted my confidence.
You played a crucial role in helping Mumbai win the Ranji Trophy by taking early wickets in virtually every match you played. What was your game plan in your first season in domestic cricket?
Basically, I concentrated on my rhythm, and line and length. I looked to stick to one plan at the start. As I got confident I moved to other things. But the first part was to focus on my basics.
How much of a help was it playing alongside Zaheer Khan [Images] and Ajit Agarkar [Images], who both have international experience? You picked anything from them?
They gave me a lot of confidence and helped me grow as the season went on. Their guidance throughout the season played a big part in my improvement as a fast bowler.
When did you decide to take up fast bowling?
At the age of 17. Actually, when I took 18 wickets in three matches in the Shatkar Trophy tournament my confidence got a boost. It was then that I decided to take up fast bowling seriously.
You have experience of conditions in New Zealand, having toured the country with the Under-19 team two years ago. Do you think that will help you?
It will help me a bit, but not much, because that was a different level I was playing. I went there with the Under-19 team, but this is at much a higher level with the Indian national team. In international cricket it is not so easy to perform; you have to keep working hard to be successful.
But you have knowledge of the wickets that you could encounter?
Yes, the wickets will be helpful to fast bowlers. The weather will be very cold and breezy.
Photographs: Sanjay Sawant.
More Interviews
Email |
Print | Get latest news on your desktop