Home > India > Cricket > India's tour of Australia 2007 > First Look


Now Symonds man-handles streaker

March 04, 2008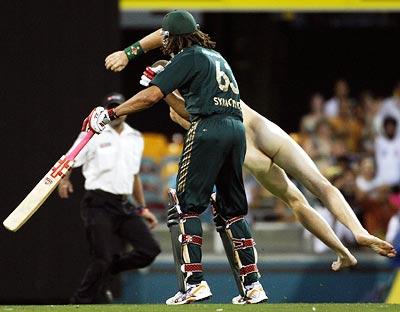 Controversial Australian all-rounder Andrew Symonds [Images] could face a serious punishment from the International Cricket Council for man-handling a streaker during the second finals of the tri-series against India in Brisbane on Tuesday.
Symonds, who has been an active participant in the on-field bickerings during India's explosive tour Down Under, was at the non-striker's end when the incident took place.
- Harbhajan cleared of monkey business
When the man ran onto the pitch naked, trying to evade the police by approaching in the direction of Symonds, the all-rounder leaned onto him in a rugby-style shoulder charge and grounded him in the 10th over of Australia's chase of 259.
If umpires decide to report the incident to the game's world governing body and Symonds is found guilty of breaching the ICC's [Images] section 4.2 of the player's code of conduct he could be suspended for five Test matches or 10 one-day internationals to a life ban.
The section 4.2 relates to a physical assault of a rival player, an official or a spectator.
The streaker was later escorted out of the field by police and Symonds continued to bat with opener Matthew Hayden [Images].
Photograph: Getty Images