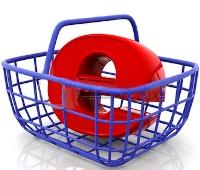 While brick-and-mortar fashion chains are not gung-ho on Christmas promotions, e-shopping portals are going full steam ahead with discounts and offers for the Christmas and New Year.

E-shopping portal Tradus.com had come out with special tabs for Christmas and New Year for 10 days starting December 18.

In its Christmas sale, it's offering up to 85 per cent discount and an additional 25 per cent on fashion apparel, home decor, kitchenware, travel and luggage, among others.

As part of the New Year sale, it offers up to 65 per cent off on computer tablets and an additional 10 per cent discount for Christmas.

Gurgaon-based portal Jabong.com started a 10-day Christmas sale on Friday, offering a 'flat 50 per cent off' on about 5,000 items and cash back on the order for lucky customers, additional discounts on high value orders and so on.

Bengaluru-based Myntra is offering flat 25 per cent on its products for this Christmas and 100 per cent cash back on the next purchase, besides gifts for the top five shoppers every day as part of a 'Hottest December' month-long campaign.

The sites say the offers and promotions are about first-mover advantage. "Online retailers are more active now.

"We want to capture customer interest before others do. Wholesellers and brands are also showing first preference for online retailers before going to retailers, as we reach faster," says Sachin Singhal, vice-president, Tradus.com.

Added Praveen Sinha, co-founder and managing director.Jabong,com:
"We saw good traction during Diwali, when we gave special offers. People came and bought.
"We saw that as an opportunity.
"Offline retailers also have to invest a lot of effort and time to hold events. But with IT enablement, online retailers have flexibility in holding such events."
Jabong.com
is expecting 25-40 per cent growth in Christmas and New Year sales, Sinha said.
E-shopping sites are also buoyed by the recent shopping festivals hosted by Citibank and Google, respectively, where they saw good growth, said the marketing head of a retail company.
US-based banking major Citibank did a mega e-shopping sale in the first week of December, where 17 e-commerce sites participated.
Google, the online search engine, tied up with 50 such sites to sell various products to buyers.
However, retailers and consultants say e-shopping sites are in a race to build scale at any cost.
Says a top executive from Arvind Retail, a unit of Arvind Ltd: "Most e-shopping sites are backed by private equity funds and they are in a race to build valuations and size. I do not know whether that will result in profitability."
Says Prashant Aggarwal, deputy managing director of retail consultancy Wazir Advisors: "They have to grow at a faster pace.
"They are attracting traffic as most sales happen during October to December."
Also, online retailers are mostly selling merchandise from previous seasons and their own private labels, according to Aggarwal.
"They are selling products not currently available in the stores. This and lower internet penetration have ensured they do not pose competition for offline retailers," he said.