India's tryst with Sri Lanka in the cricket world cup final is commanding record rates for television ad spots.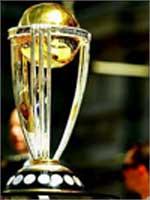 Official broadcaster ESPN Star Sports (ESS) is charging Rs 23-24 lakh (Rs 2.3-2.4 million) for a 10-second slot from last-minute advertisers.

Broadcasters sell a part - usually up to 10 per cent - ad slots just before an event to cash in on any possible spike in demand.

The ad rates for the final are five-six times the Rs 350,000-400,000 that ESS charged for the league matches and almost double the Rs 13 lakh (Rs 1.3 million) advertisers paid for the final match of the third edition of the Indian Premier League (IPL-3) last year.

ESS had raised rates to Rs 18-22 lakh (Rs 1.8-2.2 million) for a 10-second slot for the India-Pakistan semi-final on Wednesday.

Sudha Natrajan, president and chief operating officer, Lintas Media Group, said, "With India qualifying for the final, the rates have peaked to a record. The series may turn out to be the biggest revenue grosser for the broadcaster."

Lintas has been the biggest investor in the World Cup this year. It has tied up deals for co-presenter Sony, associate sponsor Maruti, Union Bank, BPCL, Religare and Voltas.

"The final is the biggest marketing opportunity for any advertiser, as India has qualified. Advertisers will be keen to cash in on the event even at a premium," said Nevin Khemka, senior vice-president, Zenith Optimedia. Market sources indicated ESS had kept 200 seconds for sale at the last hour.

An ESS spokesperson said the inventory had been sold. "We have got a tremendous response from all our sponsors and partners. The tournament has delivered in a manner far exceeding everyone's expectations. We have sold the inventory."

The ad rates for the coming IPL-4 have risen 30 per cent to Rs 600,000 for a 10-second slot.

Industry sources estimate ESS is set to earn around Rs 1,000 crore from 80 advertisers during the world cup. The broadcaster has paid $1.1 billion for the rights of all the tournaments organised by the International Cricket Council between 2007 and 2015.