The airline has already decided to lease out an A330 to Etihad and plans to lease out two more this year.

Jet Airways (India) Ltd will trim its excess wide-body capacity by leasing out three Airbus A330s to Abu Dhabi-based Etihad Airways, company officials told analysts in a post-results conference call on Monday. Jet operates a mix of narrow-body Boeing 737s and wide-body Airbus A330s and Boeing 777s.
Over the last year, the airline withdrew from loss-making international routes such as Milan, New York and Johannesburg. As a consequence, Jet had to keep six of its Airbus A330s on ground, which led to an extra cost of $16.6 million (Rs 92 crore). The airline has already decided to lease out an A330 to Etihad and plans to lease out two more this year. Further, it will lease out three Boeing 777s to Turkish Airlines. The Boeing 777s are at present leased out to Thai Airways and the lease term expires this year.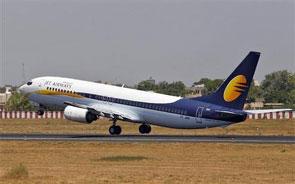 Jet is also giving a push to its international operations and estimates its international capacity to grow 10-12 per cent in the current financial year. Domestic capacity growth will be a modest five-six per cent.
Domestic demand will grow around 10-12 per cent, the airline said.
Jet's senior vice-president (alliances and networking) Raj Sivakumar told analysts the airline was pursuing a two-pronged expansion strategy. The focal point will be Abu Dhabi, which will be connected to various airports in India and will serve as a hub for onward flights to Africa, Europe and the US.
The second part of the strategy is to launch non-stop flights from India to Paris, Frankfurt and Amsterdam and expand services in Europe with further commercial partnerships.
The Europe and US/Canada markets contribute to around 45 percent of the carrier's international revenue with the balance coming from the Gulf and Asian routes.
Company officials said the airline was contemplating giving order for additional Boeing 737s and will take the delivery of 46 Boeing 737s from its previous order in three years. The Naresh Goyal-led airline will order 50 Boeing 737 Max planes, aviation consultancy Centre for Asia Pacific Aviation said in its India outlook earlier this month.
Etihad Airways will make an overall cash infusion of $750 million in debt and equity into Jet as part of a share purchase deal. The infusion would help the airline cut its debt from $2.1 billion to $1.5 billion.