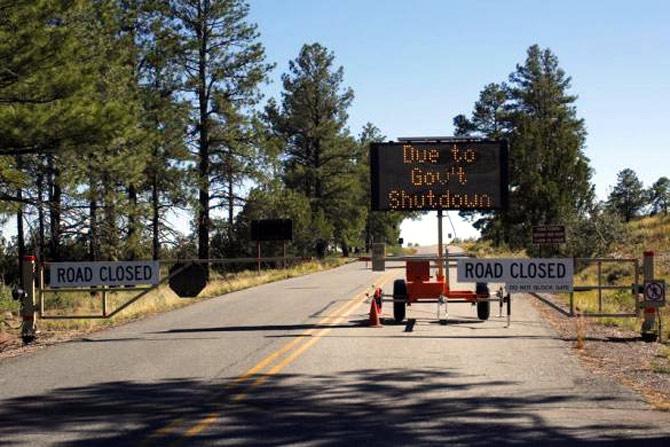 Brokerage firm Bank of America Merrill Lynch (BofA-ML) on Monday said the ongoing US government shutdown is positive for the country, as it gives additional time to recoup the forex reserves.
"Our base case is that the US shut down persisting for a fortnight to push Fed tapering into January. RBI Governor Raghuram Rajan should get more time to raise forex reserves if the tapering is deferred to January," it said in a note.
"We expect the RBI to capitalise on the postponement of Fed tapering to recoup forex reserves," it said, noting that it is necessary as the import cover has dwindled to seven months, last seen in 1998.
A two-week shutdown, however, will have little impact on the country's growth, it said, holding on to its earlier estimate of 4.6 per cent GDP growth for FY'14.
The postponement of the taper should provide the Reserve Bank necessary time to ease the debt limits for foreign institutional investors to list government bonds in emerging market bond indices to attract more benchmark funds, it added.
If the ongoing FCNR(B) deposit mobilisation scheme is successful, investor confidence will get boosted and assuming that the country gets a 10 per cent weighting in the indices, the RBI can mop-up up to $ 25 billion in reserves through the route.
The RBI will most likely start buying dollars once rupee stabilises at the 62 level against the dollar, it said. It can be noted that the Reserve Bank took a series of unconventional moves in face of the heavy depreciation in the rupee, which touched a lifetime low of 68.85 to the dollar late August.
Among the steps it announced were liquidity tightening measures and also a special window to banks for swapping fresh dollar deposits of over three years at a concessional rate.
Governor Rajan said last Friday that $5.6 billion had been collected through the aforesaid swap window, while analysts expect it to touch around $10 billion by November, till when the window is open.
The liquidity tightening measures announced in July will be reversed by December, the note added.