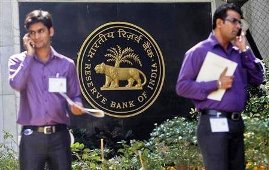 Reserve Bank of India on Friday unexpectedly raised the policy rate by 0.25 per cent as it kept its focus on controlling inflation, which it felt would be above the expected levels in the current fiscal.

RBI Governor Raghuram Rajan in his maiden policy review, however, eased liquidity though a reduction in the marginal standing facility rate, at which banks borrow from the central bank, by 0.75 per cent to 9.5 per cent.

The repo rate or the short term lending rate has been increased by 25 basis points to 7.5 per cent from 7.25 per cent with immediate effect.

Financial services firm AnandRathi analysed the key points of the policy soon after it was announced.
MSF cut by 75 basis points to 9.5%

In lieu of improving external conditions RBI has decided to roll back some of its liquidity tightening measures which were targeted at the shorter end of the yield curve.

As a result, the marginal standing facility rate has been reduced by 75 basis points to 9.5 per cent.

This move is positive as it will lower interest rates at the short end of the G-sec.

Key beneficiaries will be wholesale funded entities like Yes Bank, ING Vysya Bank, Bajaj Finance.

Cash reserve ratio remains unchanged, however minimum daily maintenance reduced to 95 per cent from 99 per cent earlier

Decreasing the minimum daily maintenance requirement will marginally improve systemic liquidity and is incrementally positive for banks' net interest margin (NIM).

Repo rate hiked by 25bps to 7.5%

RBI has hiked the LAF Repo rate by 25 basis points to 7.5 per cent to offset the inflationary pressures on account of INR depreciation and rising international commodity prices.

Hence WPI inflation can be higher than initially estimated.

Presently, repo rate is not an operating rate, hence we believe that 25 basis points increase will have minimal impact on banks.

Recommendations: Top Buys ICICI Bank, Yes Bank & ING Vysya Bank. Top sells include: SBI & Canara Bank.