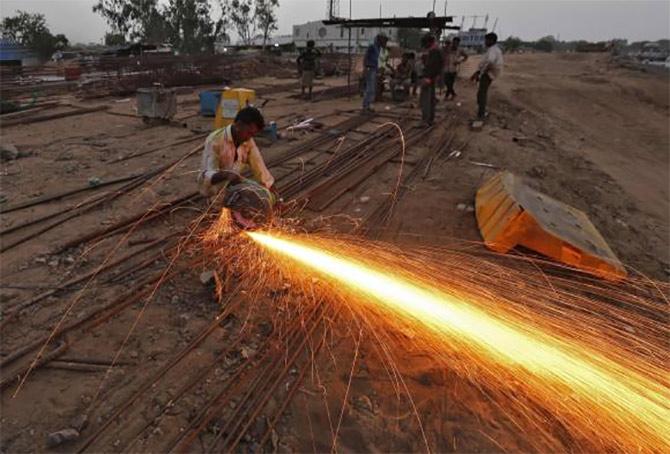 The captains of Indian industry described Narendra Modi government's maiden budget as one with "the right intent and in the right direction".
Fiscal responsibility and improving infrastructure have got a thumbs-up from the industry though some were a shade disappointed as they expected a 'bigger-bang.'
While the government would have hoped for stronger response from the financial markets, the industry bigwigs feel that "the devil is in the detail". Indian industry is now looking to see how the policies are implemented on the ground.
Finance Minister Arun Jaitley's two-hour maiden budget speech is being seen as a "holistic" one for many but they are quick to point that it needs to be seen how "sincere the government will be in implementation of plans and policies."
Ajay S Sriram, Chairman and Managing Director DCM Shriram Ltd and president Confederation of Indian Industry (CII), says "at the macro level the budget has been comprehensive, in covering major areas of the economy and is aimed to create jobs and give boost to growth rate and bringing an environment of tax stability in the country. With a focus on keeping the fiscal deficit target at 4.5 per cent, there is also an effort of the government to show it means business on this."
He says the focus of most of the policies has been spelt out over next 2-5 years, which shows vision of the government, and this is preferred over short term incentives or plans.
"The government has expressed its intent to focus on expanding the economy by creating more revenue and not merely curbing expenditure, focusing the subsidies in agriculture and food sector. There are also many people centric areas covered such as healthcare, focus on skill development and sanitation for all by 2019 which is quite positive," says Ajay.
Naushad Forbes, Director Forbes Marshall Pvt Ltd and Vice President CII, says "There are many sensible moves by the government in this budget, but we need to see how the policies will be implemented to bring in stability in growth."
Summit Mazumder, CMD, TIL and CII President designate says, "The biggest takeaway from this budget would be the focus on removing bottlenecks in the infrastructure and manufacturing sectors. Increasing FDI in defence and domestic private participation in various sectors will help usher in growth. I would give this budget a 7.5 on a scale of 10 in my specific industry of manufacturing and infra."
The Indian industry was perhaps expecting a much sharper budget from the BJP government, opening up the markets and bringing an era of reform. The Finance Minister made the right noises but seemed to have been caught between the lack of fiscal space and political necessities.
There are some who are not too enthused by the Budget. S Sandilya, Chief Executive Officer of Eicher Tractor Ltd, says "There are too many small things and nothing big bang about the Budget. The finance minister merely touched on the topic of Goods and Services Tax (GST) but he did not give any timelines or clarity on resolving this issue and how it would be tackled. Another area, allocations for funds for National Highways, has been addressed by all previous governments also, but we saw little done on the ground. We should wait and see what will be implemented in reality."
He explains that in a two-hour long budget speech, there were expectations of clear roadmap being shared by the Finance minister which was not forthcoming. Instead there were many broad based promises and the industries may not be enthused by this.

"There could been clearly defined periodical reporting of progress on various plans which could have assured us of the sincerity of this government but it was missing. Also there isn't any big picture emerging from this budget," added Sandilya.
Sandilya also points to the lack of clarity on the actual working of Public private participation (PPP) which was also touched upon as a focus area by Arun Jaitley.
"The NDA government has the voters' mandate but I am not very excited by the usual show which is not at all out of the box put up by the finance minister," says Sandilya.
Vijay Thadani, CEO, NIIT Ltd, says "We came here today with lots of hopes and we are hopeful that the NDA government will live up to its promise of `acche din' by implementing all the plans and policies announced in various sectors."
He says the plans of setting up of new IITs and IIMs and major skill development and training focus are welcome and would help create higher quality and quantity of opportunities in this sector.

"At the blueprint level, I think this budget is in line with the promises made by the NDA and there is good intent and direction as well as genuine will to deliver which is also visible. So we are quite happy with the overall budget," adds Thadani.
Naishad Parikh, chairman and managing Director Equinox Solutions Ltd says, "The NDA government has avoided making any major reversals of the previous UPA government policies but brought in more focus and targeted approach. For instance in MNREGA, there is focus on more productive capital work and other areas such as healthcare, social sector and infrastructure and manufacturing have been addressed."
There are many ups such as setting up of smart cities, and opening up of FDI in real estate which are welcome by others. Anshuman Magazine, Chairman and Managing Director, CBRE South Asia Pvt Ltd says, "The smaller investors from abroad as well as domestic markets would also find it easier to enter the real estate sector via the Real Estate Investments Trusts. We are confident this would bring buoyancy in the funds available. The concept of smart cities as spelt out in the budget will also bring positive movement in the sector."

Anshuman gave Jaitley's budget offerings to the real estate sector a generous 7 on a scale of 10.
The Modi government might not have got off to a great start as markets ended in the red, but with four more budgets to go, the government does have time on its side. The industry is now waiting to see how the next year will pan out.
Please click here for the Complete Coverage of Budget 2014 -15