Hardly a few days after the UB Group said it would be using a part of the proceeds from the Diageo deal to reduce the debts of Kingfisher Airlines, UB Holdings, the primary promoter holding company, is swinging into action.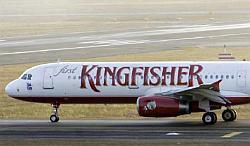 On Monday, it said it was seeking to revise on how it would support Kingfisher through loans and investments, amounting to a total of up to Rs 1,500 crore (Rs 15 billion).

UB Holdings had earlier got approval to support Kingfisher by lending up to Rs 300 crore (Rs 3 billion) and investing up to Rs 1,200 crore (Rs 12 billion) to the airline, which has been grounded for months and its licence suspended.

UB Holdings is now seeking to rework this support by stating it intends to lend up to Rs 750 crore (Rs 7.5 billion) and invest up to an equal sum in Kingfisher.

UB has said to accommodate further lending to KFA, if required, it is proposed to raise the lending limit to KFA from Rs 300 crore to Rs 750 crore and reduce the investment limit from Rs 1,200 crore to Rs 750 crore, maintaining the overall limit of Rs 1,500 crore (Rs 15 billion) approved by the shareholders.

As on December 31, 2012, UB Holdings had invested Rs 2,109 crore (Rs 21.09 billion) in equity, given loans and advances of Rs 2,271 crore (Rs 22.71 billion) and given comfort of Rs 8,766 crore (Rs 87.66 billion) through corporate guarantees to banks/aircraft
lessors.
Painted into a corner, UB Group has been trying hard to assuage the consortium of lenders, which had last week said they'd take steps to recall the Rs 7,500 crore of loans given to Kingfisher.
The consortium, led by State Bank of India, had said they'd look to encash the corporate and personal guarantees provided by UB Holdings, as well as its chairman, Vijay Mallya. And, look at offloading the pledged shares of United Spirits to recover loans.
Early last November, United Spirits, UB Holdings and Diageo announced that Diageo would pay up to Rs 11,100 crore (Rs 111 billion) to acquire up to 53.4 per cent stake in India's largest spirits company, United Spirits.
As part of that transaction, while United Spirits will be getting Rs 3,200 crore (Rs 32 billion), UB Holdings will be getting Rs 2,400 crore.
UB Group chairman Vijay Mallya had earlier said the proceeds would not be used to rescue Kingfisher. However, last week, the company changed that statement and said it would explore how the proceeds from Diageo could be used to pare debt at Kingfisher.