Awaiting clearance for their $2 billion deal, executives of United Spirits and Diageo on Monday met officials of fair trade regulator Competition Commission of India (CCI) in New Delhi.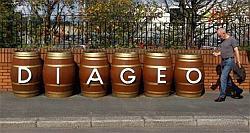 United Spirits Ltd (USL) and UK liquor major Diageo have proposed a $2 billion transaction that would see the British entity picking a majority stake in the Vijay Mallya group firm.

"Companies' executives today (on Monday) held a meeting with CCI officials regarding the deal... It will take some more time for the Commission before deciding on the case," a source said.

CCI has the mandate to keep a tab on anti-competitive practices across sectors and the regulator's approval is necessary for M&A deals in the country.

Capital market regulator Securities and Exchange Board of India (Sebi), on January 31, approved Diageo's open offer for acquiring 26
per cent stake in USL. The offer is part of the overall deal.
Meanwhile, Diageo has requested Sebi to allow it to launch an open offer for purchase of shares in USL after receiving all regulatory approvals.
The proposed transaction would see Diageo purchasing 27.4 per cent stake for Rs 5,725.4 crore (Rs 57.25 billion) in USL through a combination of share purchase from existing promoters and preferential allotment of shares.
Besides, the UK firm has offered to acquire an additional 26 per cent stake for Rs 5,441.07 crore (Rs 54.41 billion) through an open offer for public shareholders.
Country's largest spirits company USL is part of UB Group, whose aviation venture - Kingfisher Airlines - is facing tough times and is grounded now.