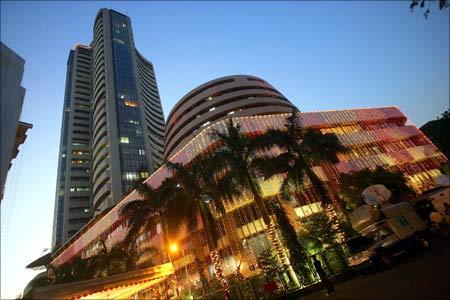 The market valuation of top seven Sensex companies fell by Rs 24,783.44 crore last week in an overall weak stock market.
TCS, ITC, Coal India, HDFC Bank, SBI, ICICI Bank and HDFC suffered losses in their market capitalisation (m-cap). ONGC, RIL and Infosys however made gains.
The m-cap of IT behemoth TCS slumped Rs 7,923.05 crore to Rs 4,84,981.05 crore, taking the biggest hit among the top-10 firms.
HDFC Bank's m-cap dropped Rs 4,568.76 crore at Rs 1,91,984.31 crore. ICICI Bank lost Rs 4,511.34 crore at Rs 1,66,217.78 crore.
The valuation of CIL plunged Rs 2,873.95 crore, to Rs 2,24,167.77 crore, while mortgage lender HDFC's m-cap fell by Rs 2,068.37 crore, to Rs 1,60,807.55 crore.
SBI's market value dipped Rs 1,802.97 crore, to Rs 1,80,316.07 crore and that of ITC went down by Rs 1,035 crore at Rs 2,77,420.22 crore.
In contrast, the m-cap of Infosys soared Rs 8,039.3 crore to reach Rs 1,99,854.28 crore and ONGC added Rs 6,758.83 crore at Rs 3,37,214.64 crore.
Similarly, RIL's value rose by Rs 630.61 crore to reach Rs 3,17,052.60 crore.
In the ranking of top-10 firms, TCS retained its number one position followed by ONGC, RIL, ITC, CIL, Infosys, HDFC Bank, SBI, ICICI Bank and HDFC.
Over the past week, the BSE 30-stock benchmark index, Sensex, fell by 151.7 points to settle at 25,329.14.