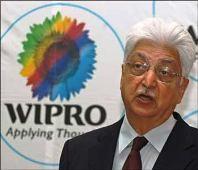 Wipro Technologies said on Wednesday it has joined the Car Connectivity Consortium to develop smartphone-based connected-car solutions.

The CCC is a body dedicated to developing cross-industry collaboration global standards and solutions for smartphone and in-vehicle connectivity, the Bangalore-headquartered company said.

"MirrorLink, a technology standard created by the consortium, ensures seamless communication between compliant smartphones and in-car systems like steering wheels, dashboard buttons and screens," Wipro said in a statement.

Members of the CCC include world leaders in auto manufacturing, mobile communications and consumer electronics.

CCC chairman and president Mika Rytkonen said: "Like all of our members, Wipro has demonstrated vision and foresight by supporting MirrorLink. Wipro is a world leader in product engineering solutions and we look forward to the company's contributions to the connected car industry."
Image: Azim Premji