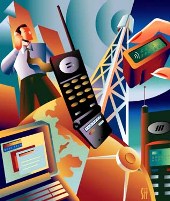 Reliance Communications on Sunday announced its board of directors had given in-principle approval to demerger of the company's real estate assets.

A new company, to be called Reliance Properties Ltd, would be spun off to unlock value.

The new entity will be listed separately and the existing shareholders will get one RPL share for each RCom share (of Rs 130 market price) held.

The demerger is expected to enhance value for the existing shareholders.

According to independent valuers' estimates, the preliminary and indicative monetised value of two of RCom's real estate assets on development will be more than Rs 12,000 crore ($2 billion).

These assets are Navi Mumbai's 135-acre Dhirubhai Ambani Knowledge City, where there is potential to build 15 million square feet of space, and a four-acre property near New Delhi's Connaught Place.

That translated into Rs 60 per RCom share, the company said in a statement.

The valuation does not include the company's properties in Hyderabad, Kolkata and Chennai, among other cities.

RCom said the proposed demerger was part of its strategic plan to divest non-core assets and focus on core wireless and enterprise business.

Gurdeep Singh, president & CEO of RCom's mobile business, said: "The deal is part of RCom's effort to get out of non-core
business, reduce debt and concentrate on telecom business within the country."
The proposed demerger is subject to approvals from shareholders, lenders and courts.
The company's board also decided to set up a committee to decide on the timeline for the monetisation.
After the company recently repaid $1-billion of its $7-billion external commercial borrowings, the proposed deal is expected to further lower RCom's debt burden of Rs 32,000 crore (Rs 320 billion).
Analysts say the move is a positive for shareholders but they also raise some concerns.
Some even question the idea of debt reduction through demerger.
"The value of the real estate will go to the shareholders, and not RCom, until some of the debt is also shifted to the new company," says a telecom analyst.
In December 2012, Reliance Group had formed a joint venture with China's leading real estate developer Wanda Group to undertake real estate projects in India.
The JV would develop integrated township projects in India, including commercial buildings and residential apartments, hotels and retail space.
After signing the JV, the company had said in a statement that among the JV's first real estate projects would be those in Navi Mumbai and Hyderabad.