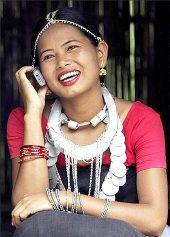 About a fortnight after the national roll-out of mobile number portability service, more than 17 lakh (1.7 million) mobile subscribers have opted for the facility, that allows users to change their service provider while retaining the number, Telecom Regulatory Authority of India said on Tuesday.
The MNP service was introduced on a pilot basis in Haryana on November 25, 2010 and later rolled out pan-India from January 20 this year.
Of the total 17.11 lakh (1.71 million) requests received, about 229,000 were from Haryana circle where MNP was first implemented, Telecom Regulatory Authority of India said.
In other circles, Gujarat saw the highest number of switching requests at 167,000, followed by Rajasthan (1.44 lakh) in Zone-I (Northern and Western India).
In MNP Zone-II (Southern and Eastern region), maximum number of requests were received in Karnataka (1.16 lakh) and Tamil Nadu (1.14 lakh) circles.
Trai said it is constantly monitoring the implementation of the service.
It noted that certain requests were rejected by telecom operators because subscribers had quoted incorrect unique porting code (a unique number given to a subscriber who wants to change his operator) in the
porting form.
The rejection was also on account of non-payment of outstanding bill and non-completion of 90 days from the date of activation of mobile number.
Telcos, including airtel, Idea Cellular and Vodafone, have been aggressively marketing their services to woo subscribers from other networks, who were looking for switching operators.
With the roll-out of MNP, subscribers will look at changing operators if they are not satisfied with the network coverage or customer care services, say operators.
Customers have to pay a maximum of Rs 19 to an operator to change their network and the new operator has the option to either waive the fee or reduce it.
However, a consumer would be required to continue with an operator for a minimum period of three months in order to avail the MNP service.
The authority has also instructed telecom operators to strictly comply with the provisions of MNP regulations based on complaints received from subscribers saying they were unable to get the process started.
India is the fastest growing telecom market in the world with a monthly addition of about 15 million subscribers.