In a bid to tap rising recruitment activity around temporary and contractual jobs, leading online job portal Monster India on Tuesday said it has launched a new dedicated section -- contract jobs.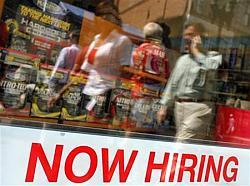 The new offering will facilitate both jobseekers and employers find contractual jobs/talent, that would give better access to the pool of talent looking for contractual employment and companies that look to hire contract workers, project workers, the company said.

According to industry estimates, the Indian organised temporary staffing industry is likely to employ nine million people by 2025 and is expected to grow to represent 10 per cent of the organised workforce by 2025.

"Given the buoyancy of contractual and project hiring in India, Monster India's new offering 'Contract Jobs' has been launched with the aim to address the needs of career minded professionals by providing them flexibility of tenure, learning on the job and a bridge to full employment," Monster.com managing director (India/ Middle- East/South East Asia)
Sanjay Modi said.
This offering will also aid employers in building their talent pipeline and meet their talent requirements by hiring just-in-time, Modi added.
Over the last decade, the demand for temporary/contractual employees has gained momentum especially in sectors like IT/ITeS, retail and other services sector, owing to recruiter's ability to respond quickly to volatile economic environment with the least possible lead time.
This offering for Monster's stable will help women who due to maternity and family commitments are not able to return to full time career. This offering will also help retirees who are keen to pursue a career after their full time employment.
They have an option to find better jobs that fulfil their need for ease and flexibility, the company said.
With rising pace of India's economic growth and globalisation of workforce, contractual based jobs act as a springboard to bring experienced and skilled talent back to the workforce, it added.