The Indian economy is likely to witness a whopping consumption stimulus worth $13 billion (about Rs 70,000 crore) over the next 12-14 months on account of election spending and the government's Direct Benefit Transfer scheme, a new report has said.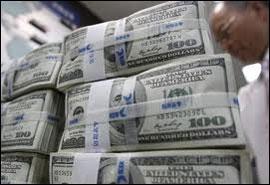 As per the report prepared by brokerage and capital market research firm Axis Capital, the estimated $13 billion stimulus has "nothing to do with the upcoming Budget".
"This will be a result of $8 billion poll 'stimulus' as 13 states will witness assembly elections culminating into the General Election. This bunching of elections in a short span of time and the resultant poll spending will have important ramifications for consumption in FY14," it said.
Additionally, $5 billion worth of direct benefit transfers is estimated to occur in the next 12-14 months, said the Axis Capital report co-authored by Sachchidanand Shukla and Shiv Nanda.
"This (DBT) scheme will cover 34 schemes as of now (through LPG and kerosene subsidy, scholarships, old-age/widow pensions, and MGNREGS) and cash would be credited directly to beneficiary bank accounts," said the report.
Noting that falling interest rates and a pro-consumption budget will be additional tailwinds, Axis Capital said the magnitude of election expenditure and the "pre-election revelry" has positive implications on several consumption focussed sectors.
"We expect auto, media, telecom, consumer products, liquor and white goods to see an uptick in demand on account of the stimulus," it said.
Arguing that this mega consumption stimulus will obviate the need for a spending spree by the government, Axis Capital said: "The budget will be a positive for consumption as it may leave some money in middle class pockets by raising Income Tax exemption limits and not burden consumers with increase in tax rates."