Stronger rupee likely to take a toll; Infosys results on April 13 to be keenly watched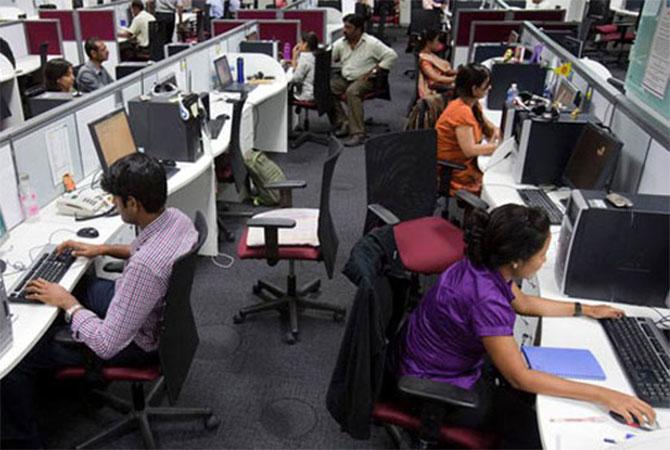 Indian information technology (IT) services companies are yet to see growth revival and might report lower numbers for the quarter ending March (fourth or Q4 in 2016-17), as uncertainties continue over a new tax regime in the US and the slowing of traditional business.
The results season will begin with the country's second largest IT services entity, Infosys, announcing its numbers this Thursday.
Sector analysts say some top and mid-level companies saw growth in some business accounts. And, tier-I companies worked on models to offset a rise in cost due to more local hiring and potential tax changes by Donald Trump in the US.
These performance improvements of IT companies might, however, get impacted by a rupee which rises against the dollar; it had closed March at 65 to a dollar.
Profit is likely to be impacted across companies with these currency headwinds.
Large and mid-size companies are expected to post nil to two per cent revenue growth in constant currency terms on a sequential basis, says brokerage Motilal Oswal.
HCL Technologies should, however, see up to 3.4 per cent, with contribution from acquisitions, notes a preview report by the firm.
"IT vendors to show moderate growth of 0.8 to 3.9 per cent in constant currency terms on a sequential basis, with HCL or TCS (Tata Consultancy Services) leading the pack," said Madhu Babu, IT analyst at brokerage Prabhudas Lilladher.
The sector will keenly watch the growth forecasts by Infosys, which is expected to announce a conservative number of between seven and nine per cent. Nasscom, the apex software industry body, has said it expects between eight and 10 per cent for the sector.
A change in the on-shore business model, with more local hiring, will mean additional cost for Indian IT. "Revenue growth for the industry still remains a challenge, with little, if any, clear signs of acceleration after a tepid 2016...The business model changes at on-site have been underway for a while, and the higher costs have more-or-less been absorbed so far. But, the recent direction of the rupee against the dollar might just end up being an additional headwind to thwart any assumptions of sanguine performance," said Gautam Duggad, research head at Motilal Oswal.
Indian IT is seeing a transition in the business model as more customers seek service delivery through digital technology such as cloud. This has also resulted in significant reduction in long-term and high-volume contracts.
Many clients now prefer to spend their IT budgets through a pay-as-you-use model. At the same time, Indian IT companies are seeing a decline in on-premise technology services business, still their core.
Photograph: Reuters