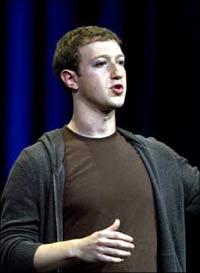 The personal fortune of Facebook founder Mark Zuckerberg has doubled to $14 billion after his social networking site got a huge cash injection from Goldman Sachs.
The New York Times reported that the banking giant pumped in $500 million in Facebook, with Russian investment firm Digital Sky Technologies investing in a further $50 million.
Zuckerberg, who owns a quarter of Facebook's shares, was immediately catapulted from 212 into the top 40 of Forbes' list of billionaires, reports the Daily Mail.
The 26-year-old social media tycoon is already one of the world's youngest billionaires.
Facebook is now valued at $50 billion, making it worth more than Yahoo! ,eBay and Time Warner.
Image: Facebook founder Mark Zuckerberg. Photograph: Reuters