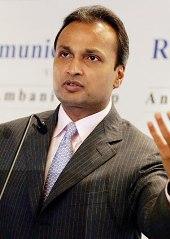 Reliance Communications chairman Anil Ambani was questioned on Tuesday by Parliament's Public Accounts Committee in connection with alleged irregularities in the 2G spectrum allocation.

Etisalat DB Telecom chief executive officer Atul Jham was also questioned by the panel headed by senior BJP leader Murli Manohar Joshi.

The PAC on Monday quizzed Tata Sons chairman Ratan Tata and corporate lobbyist Niira Radia in connection with the 2G
spectrum scam.
The panel had quizzed Radia for two hours and Tata for three hours on issues related to the scam.
S-Tel chief executive officer Shamik Das and Unitech Wireless managing director Sigve Brekke are also scheduled to appear before the PAC on Tuesday.
Image: Anil Ambani