Tata Consultancy Services (TCS) posted 29.93 per cent jump in consolidated net profit at Rs 2,369.83 crore (Rs 23.69 billion) for the third quarter ended December 31, 2010.

The company has announced 200 per cent dividend. It has declared the third interim dividend of Rs 2 per equity share of Re 1 each. TCS had recorded net profit of Rs 1,823.90 crore (Rs 18.23 billion) in the October-December 2009 quarter, the company said in a filing to the Bombay Stock Exchange.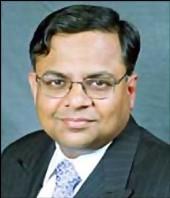 Income from operations rose to Rs 9,663.35 crore (Rs 96.63 billion) during the Q3 of the current fiscal, up 26.34 per cent from Rs 7,648.53 crore (Rs 76.48 billion) in the year-ago period.

It added 35 new clients during the quarter. "Our ongoing performance has been the result of the sustained effort from all operating teams to focus on growth with profitability," TCS CEO and MD N Chandrasekaran said.

The company said it added 20,219 people (gross) during the quarter, its highest addition yet, taking the total headcount to 1,86,914 at the end of the December quarter.