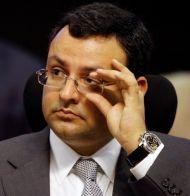 Tata Group Chairman Cyrus Mistry would have liked to start his innings on a better note.
The net profit of Tata Sons, the holding company of the group, fell 18 per cent to Rs 3,053 crore (Rs 30.53 billion) in 2013-14, the first full financial year of operations under Mistry, who took over as chairman in December 2012.
The profit was Rs 3,713 crore (Rs 37.13 billion) in the previous year and the drop comes in spite of Tata Sons earning Rs 453 crore (Rs 4.53 billion), or 24 per cent more, brand subscription fees from its group firms.
The net profit was down mainly due to an increase in "other expenses", which shot up to Rs 697 crore (Rs 6.97 billion) from Rs 410 crore (Rs 4.10 billion) due to provisioning for bad investments and increased finance costs.
The unlisted company, which earns the bulk of its income as dividends and interest, received a dividend of Rs 3,627 crore (Rs 36.27 billion), almost the same as last year, from its "jewel" Tata Consultancy Services, in which it holds a 73.9 per cent stake, even as other Tata group companies were left far behind in dividend contribution to the parent company.
The revenue from operations was down 5.6 per cent to Rs 5,429 crore (Rs 54.29 billion), according to the annual report of Tata Sons.
In response to an emailed query from Business Standard, a Tata Sons spokesperson said: "We do not comment on Tata Sons financials. So far as the brand subscription fee is concerned, there has been no change."
The Tata trusts and the Mistry family, the main shareholders in Tata Sons, will, however, take home the same dividend as last year, Rs 324 crore (Rs 3.24 billion). Another Rs 340 crore (Rs 3.40 billion) will be distributed as dividend by Tata Sons to its preference shareholders.
Interestingly, while the dividend income remained static, the brand fees charged by Tata Sons from group firms using the "Tata" brand name increased substantially.
The group companies pay 0.25 per cent of their revenues for using the Tata brand name directly, while companies like Titan pay less. TCS, for example, paid Rs 118 crore (Rs 1.18 billion) as brand fees to Tata Sons in 2013-14.
The brand fees agreement was first drafted in 1996; the contribution of international operations in the group's revenues have increased to 63 per cent since then.
The group is now contemplating reworking the brand equity and business promotion agreement to include foreign companies like Jaguar Land Rover and Corus.
But the Tatas have not yet confirmed the brand fees for foreign companies.
The falling health of Tata Sons could be a cause for concern, as the company needs to buy out NTT Docomo's stake in Tata Teleservices for Rs 7,200 crore (Rs 72 billion), according to a 2009 agreement between the two companies.
The company, in the recent past, has gone on an overdrive to raise funds through non-convertible debentures and pledged TCS shares.
The Tata holding company is also making investments in two new airline joint ventures - those with Air Asia and Singapore Airlines.