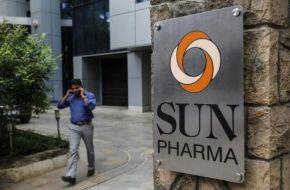 Sun Pharmaceutical Industries recorded a good show for the quarter ended June this year, despite a below-par performance by Taro Pharma, its US subsidiary.
At Rs 1,390 crore (Rs 13.90 billion), Sun Pharma's adjusted consolidated net profit rose 12 per cent year-on-year.
The reported profit isn't comparable to that in the year-ago period, as at that time, Sun had reported a loss of Rs 1,276 crore (Rs 12.76 billion), owing to provisioning of Rs 2,517 crore (Rs 25.17 billion) towards a settlement for patent infringement litigation pertaining to generic versions of Protonix.
During the June quarter, Taro, Sun's primary growth driver through the past few quarters, reported revenue of $130 million, down 15 per cent.
Taro accounts for about a third of Sun's revenue and 38 per cent of its earnings before interest, tax, depreciation and amortisation (Ebitda). The underperformance was due to a higher price adjustment charge of $79 million, against $24 million a year earlier.
Adjusted for this, Taro's revenue rose 18 per cent year-on-year. Taro has indicated price adjustments or the price protection charge are expected to start showing results from the quarter ending September.
Lower revenue, coupled with higher selling and general administration costs, hit Taro's Ebitda margin which, at 44.9 per cent, was at a five-quarter low.
The margin for FY14 was 58 per cent. Given Taro's numbers, announced last week, analysts scaled down their estimated consolidated revenue for Sun from Rs 4,133-4,200 crore (Rs 41.33 billion) to Rs 3,700-3,800 crore (Rs 37-38 billion).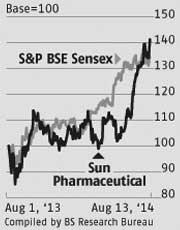 The revenue announced was Rs 3,927 crore (Rs 39.27 billion), 13 per cent more than in the year-ago period.
The growth was led by non-Taro US sales, which rose 20 per cent year-on-year in dollar terms, with market share gains for some products.
This was despite the high year-ago base. The US is a critical market for Sun, accounting for 58 per cent of its consolidated revenue.
Sun continued to see a good performance in its India formulation business, too, recording sales of Rs 992 crore (Rs 9.92 billion), up 17 per cent year-on-year and double the sector's domestic growth of eight per cent during the quarter. Boosted by the strong show, the Sun Pharma stock rose 2.4 per cent to its 52-week high of Rs 802.70 on BSE, before closing at Rs 800.25 on Wednesday.
The company has estimated consolidated sales growth of 15 per cent for this financial year (excluding gains from the merger with Ranbaxy).
A large part of this is likely to be accounted for by its cumulative US portfolio of 358 abbreviated new drug applications (ANDAs), of which 140 have been approved. During the quarter, the company had filed 14 ANDAs, of which six have been approved.
Sun recorded a consolidated Ebitda margin of 44 per cent. While other expenses, as percentage of sales, fell 410-432 basis points (both year-on-year and sequentially), one-time product sales and a favourable product mix in the US also helped. While some of these might not continue in the coming quarter, a price rise-led recovery at Taro should help sustain overall margins