Reserve Bank of India Governor D Subbarao on Thursday appeared before Parliament's Public Accounts Committee (PAC) probing the 2G spectrum scam to explain his position during his term as the finance secretary.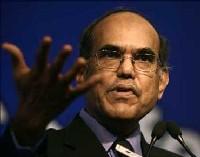 "He gave us extensive information which made it clearer to us how ministries conducted their business," said PAC Chairman Murli Manohar Joshi.

Subbarao gave his views on certain decisions that the Department of Telecommunications (DoT) had taken for allocating 2G spectrum.

Joshi said Uninor and Swan representatives will be called before the committee as and when required, because the companies had told the Telecom Regulatory Authority of India (Trai) and the DoT that they wanted to rebut certain assertions in the Comtroller and Auditor General (CAG) report on the 2G scam.

He said the Prime Minister may also be called, if necessary. He, however, declined to give any timeframe for completion of the PAC report.

Today's meeting also examined the government's Action Taken reports on the Mahatma Gandhi National Rural Employment Guarantee Secheme (NREGS) and the mid-day meal scheme.

It directed CAG to bypass state governments and conduct independent audits in both, as "several state governments have confessed that they themselves had no information on how these schemes were being rolled out and how much leakage was involved." The CAG has been asked to find out new auditing methods for the two schemes.

Joshi said two reports on procuring medicines and medical equipment and Sebi's role in unproductive expenditure of investors' money will be placed before Parliament during the budget session.