The Asian Development Bank on Friday said India should continue to undertake structural reforms and increase investments in order to get back to 8-9 per cent growth track in the long term.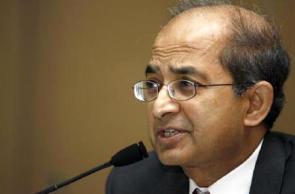 "Momentum in India is positive. Structural reforms should continue. If we get the investment story right, get to lower the fiscal deficit, get GST through legislative system then India can get back to 8-9 per cent growth rate," Asian Development Bank (ADB) Managing Director General Rajat Nag told a media conference.

ADB estimates Indian economy to grow at 6 per cent in the current fiscal and 6.5 per cent in 2014-15. The growth story in India would be driven mainly by the domestic demand, but supply side remains a constraint, Nag said.

"India growth story is going to be the story of investments," he said, adding fasttrack clearances by the CCI, partial deregulation of sugar prices and other measures would help improve investment climate.

As per the official estimates, the economic growth in the current fiscal is likely to be between 6.1-6.7 per cent. However, the RBI estimates it a tad lower at 5.7 per cent.

The government has set up a Cabinet Committee on Investment (CCI)
to remove infrastructure bottlenecks and accord fast track clearances to large projects.
Besides, it has also taken various reforms initiatives like deregulating diesel prices, partial decontrol of petrol and liberalising the FDI norms for various sectors.
Nag said the CAD, which is the difference between the outflow and inflow of foreign currency, would be about 4.4 per cent in the current fiscal, diminishing a bit further to 4 per cent in fiscal 2014-15. The CAD was above 5 per cent as per ADB's estimate in 2012-13.
"Current account deficit still remains high ... Fiscal deficit is still a bit high but again that 4.8 per cent target is achievable, though, not easy. All of this basically say that the growth momentum in India is positive, but there are challenges...," Nag said.
On global commodity prices, Nag said a fall in prices would be positive for India and the biggest impetus would be the decline in oil prices. He, however, said that he doesn't see a further dramatic fall in commodities prices.
On Inflation, Nag said going forward food price pressure should diminish. The WPI inflation for March stood at 5.96 per cent, but the food inflation remained in double digits.
Image
: ADB Managing Director General Rajat Nag.