About 1,000 workers at Kajaria Yarn and Twines Ltd's Sibpur mill in Howrah district on Monday woke up to an indefinite lockout notice at the factory. The reason for the lockout, according to the management, is poor productivity and financial condition.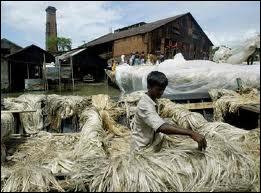 This is not an isolated development. Given the hardships faced by the jute mill industry in West Bengal, one of the few surviving manufacturing sectors in the state, industry experts say a strike threat is looming large, which could lead to more lockouts. Over the past one year, at least four jute mills were locked out temporarily.
In December 2009, jute mill workers in 52 mills in the state had gone on an indefinite strike, culminating in a tripartite agreement between the government, mill owners and workers. The agreement will expire this month and workers have already submitted a new charter of demands to mill owners.
"There is a possibility of strike in the coming days," said Sanjay Kajaria, former chairman of the Indian Jute Mills Association (IJMA). According to experts, poor financial conditions amid dwindling demand and labour problems are threatening the jute industry of the state.
Ironically, opening closed factories topped the agenda of the present government. Finance Minister Amit Mitra had said there would be a plan to open about 58,000 closed factories that had about 44,000 acres locked within.
"The reopened jute mills are open, but not functional," said Amitabh Chakraborty of the Centre of Indian Trade Unions (Citu). Kajaria of IJMA, too, admitted that the reopened mills were hardly functional.
Less wages and problems in the industry are prompting workers to look for job opportunities elsewhere, mainly in the construction sector and under the Central government's rural job scheme. This, together with a sharp decline in the number of migrant labourers from Bihar, Uttar Pradesh and parts of south India, has led to a substantial shortage of workers in the mills.
This was visible when Kajaria, owner of several jute mills in the state, recently raised wages of temporary workers voluntarily to about Rs 220 per day from Rs 157. In addition, the stacking up of large dues in employee provident fund (PF) and gratuity by jute mill owners has earned a bad reputation for the sector. According to Chakraborty of Citu, about Rs 330 crore (Rs 3.3 billion) of gratuity and Rs 250 crore (Rs 2.5 billion) of PF dues are yet to be paid by mill owners to workers.