Amidst depreciating rupee, Prime Minister's Economic Advisory Council Chairman C Rangarajan on Tuesday pitched for substantial increase in diesel prices to meet the fiscal deficit target.
"I think the correction is very much needed. The factor responsible for this is external. The rupee has also depreciated. We need to take action. But necessary adjustment will have to be made," he said on the sidelines of an event.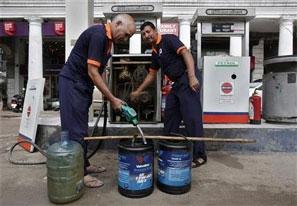 Since end-May there has been volatility in the foreign exchange market. The rupee has declined by over 20 per cent since May on account of global and domestic factors including sharp rise in the Current Account Deficit (CAD).
Earlier this week, diesel prices were raised by 50 paise per litre, although the under-recovery on the sale of the fuel is about Rs 12 per litre. The price was raised to Rs 51.97 per litre in Delhi.
Rangarajan said there was need to keep fiscal deficit under check.
"Also for the reason that we have to keep the fiscal deficit down at the budgeted level, action will be required," he said.
Asked whether government should consider cut in planned expenditure, Rangarajan said: "I think revenues will be more or less met. What is required is to see that expenditures are maintained at budgeted level."
The government had in January allowed oil companies to raise diesel rates by up to 50 paisa per month till such time that the losses on the most consumed fuel in the country are wiped out.
The latest hike was the eighth one since January 17 and much of the losses on diesel sales should have been wiped off by now to make the fuel market priced. But the fall in rupee, around 25 per cent since April, has worsened the situation and oil firms are losing Rs 12.12 per litre despite the prices having being raised by a cumulative Rs 4.75 this year.
Oil firms had on June 1 raised petrol prices by 75 paise, excluding VAT, and followed it with a Rs 2 per litre increase on June 16, a Rs 1.82 increase on June 29, Rs 1.55 hike on July 15 and 70 paise increase from August 1.