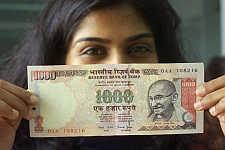 The global economic slowdown appears to be blunting the benefit of the rupee's depreciation on remittances this year: Non-resident Indians are likely to send $71 billion to the country, against $70 billion last year. The latest issue of the World Bank's Migration and Development Brief said India would continue to top the chart of countries receiving remittances. This year, remittances to China would stand at $60 billion, the Philippines $26 billion, Mexico $22 billion, Nigeria $21 billion and Egypt $20 billion, the report said.
Last year, remittances to China stood at $66 billion, the Philippines and Mexico $24 billion each and Nigeria $21 billion. This year, the remittances to India would be higher than what the country is expected to earn through information technology exports. India received $35.6 billion of remittances in the first half of this year, slightly higher than the total receipts from exports of telecommunications, computer and information services during the period, the report showed. "In India, remittances are higher than the earnings from IT exports. With the weakening of the rupee, a surge in remittances is expected, as NRIs take advantage of cheaper goods, services and assets back home," said the report.
World Bank Chief Economist and Senior Vice-President Kaushik Basu said: "To put this in perspective, this is three times the FDI (foreign direct investment) it (India) received in 2012." That year, India had drawn $22.78 billion of FDI. "Remittances act as a major counter-balance when capital flows weaken, as was the case in the wake of the US Fed announcing its intention to rein in its liquidity injection programme. Also, when a nation's currency weakens, inward remittances rise and, as such, act as an automatic stabiliser," Basu said.
However, the estimated rise in remittances to India is extremely low compared to the rupee's depreciation, as is evident from remittances as percentage of gross domestic product. In 2012, India's nominal GDP stood at Rs 97,15,588 crore. At that time, the average value of the rupee stood at 53.38/dollar. As such, India's GDP was $1820 billion. At $70 billion, remittances accounted for 3.85 per cent of GDP last year.
Assuming India's nominal GDP grows 13.4 per cent this year (as stated in Budget 2013-14), over 2012-13, GDP would stand at Rs 1,10,17,477 crore. Considering the rupee's average value of 57.36/dollar till September is applicable for the rest of the year, GDP would stand at $1,921 billion. Remittances of $71 billion would mean 3.69 per cent of GDP. As such, there would be a marginal fall in remittances, in terms of proportion of GDP.
This, however, is miniscule compared to other countries. In 2012, as percentage of GDP, the top recipients of remittances were Tajikistan (48 per cent), Kyrgyz Republic (31 per cent), Lesotho and Nepal (25 per cent each) and Moldova (24 per cent).
Globally, the developing world is expected to receive $414 billion in remittances this year, a rise of 6.3 per cent compared to last year. The remittances are estimated to rise to $540 billion by 2016.
According to World Bank estimates, together, India and China would account for about a third of total remittances to the developing world this year. Globally, 232 million international migrants were expected to remit earnings worth $550 billion this year and about $700 billion by 2016, the report said.
Growth in remittances has been robust in all regions except Latin America and the Caribbean, where growth fell, owing to the slowdown in the US.