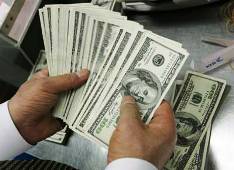 Foreign institutional flows into Indian equities have received a boost since the US Federal Reserve's decision to hold back the tapering in its stimulus programme on September 18.

These investors have pumped in about Rs 6,900 crore (Rs 69 billion) in the seven trading sessions after the Federal Open Market Commission meet.

So far this month, foreign institutional investors have been net buyers of equities at Rs 13,228 crore (RS 132.28 billion).

Brokers said a large chunk of the flows had been through emerging market exchange-traded funds.

Most of these funds had been waiting on the sidelines prior to the FOMC meet in the absence of clarity regarding the future of the QE3.

The QE3 has been hailed the liquidity lifeline of emerging market economies.

The US Fed chairman, Ben Bernanke, had given indications in May this year of a possible $10 billion reduction in its $85-billion monthly bond-buying programme.

However, Bernanke sprung a surprise on markets globally by deciding to leave the QE3 intact, citing unstable US economic recovery as the reason.

This led to a rally in global equity markets, as currencies stabilised.

However, not all sections of the market are rejoicing the increase in inflows, as they insist it is simply hot money chasing returns
and could exit as fast as it enters.
"Post the FOMC meet, there has been an increase in inflows into equities and it is likely to continue.
"But this money does not look at Indian economic fundamentals.
It is only "ETF money that is ear-marked for Indian markets that is being deployed," said Vivek Mahajan, head of research of Aditya Birla Money.
Global ETFs are funds that seek exposure to a wider range of equities across geographies. The announcement of the QE3 in September 2012 saw a flurry of investments into emerging markets propping up local currencies and equity markets.
Debt investments, on the other hand, have seen net outflows of Rs 4,516 crore (Rs 45.16 billion) post the FOMC meet. Prior to the meet and since the beginning of the month, net outflows stood at Rs 1,499 crore (Rs 14.99 billion).
FII outflows from the debt market had been on the rise since the rupee depreciation in June this year.
It was further aggravated by the RBI's measures for capital control introduced in July to stem the flow of the rupee.
With 10-year yields still above the eight per cent mark, investors have been staying away from the debt market.
Hitendra Dave, managing director and head of global markets, India, HSBC, said the selling in debt had largely been by proprietary desks of foreign institutions, which invested in short-term papers like treasury bills on a fully hedged basis.