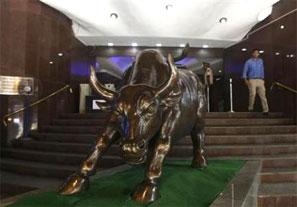 With the BSE Sensex hitting an all-time high, and the outcome of the state government elections favouring the Bharatiya Janata Party, retail investors should further lean towards equity investment. Now is not the time to exit, but to hang on to the good stocks.

A slow but steady economic uptick can be seen in various segments of the economy. India's economy expanded 4.8 per cent in the second quarter, higher than the preceding quarter's 4.4 per cent.

Experts think this growth could see more legs in the coming quarters. Corporate profit growth increased 10 per cent in the second quarter, twice of expectations.

Apurva Shah, senior portfolio manager, BNP Paribas MF says a number of factors are turning in favour of equities.

"Irrespective of what happens in the state or national elections, equities are a good investment from a two-three year perspective. The economy is on a possible turnaround, several sectors are repairing, globally the situation is turning for the better," he said.

Experts, however, say one should look at exiting from stocks that are only beneficiaries of a euphoric rise.

Says Jigar Shah, head of research, Kim Eng Securities: "If you are in the good export-oriented and consumer sectors of the market, then stay invested.

"If you were just looking for the euphoric rise after elections in some of the industrial segments, then it's a good time to take some profits out, as nothing has changed fundamentally yet."

Therefore, use the opportunity to get rid of some companies that have run up significantly without any change in fundamentals.

Investors can also exit stocks that have a huge debt burden and switch
to companies that have lower valuations but better cash positions.
The BSE Sensex is currently quoting at a mere 15 times forward earnings for FY14 after the second quarter results, and experts reckon it's at a very attractive valuation.
Says Shah, "Market-wide valuations are still not expensive. If you have a medium-term outlook, equities should do well, in my opinion."
But how much should you invest now?
Most experts say one shouldn't yet go all out in this market and buy aggressively, as the current euphoria over the state election results will taper, and the markets will begin to factor in the central elections.
Kartik Jhaveri, director at Transcend Consulting (India), suggests while the markets do seem poised to break out of a rut, investors should continue to approach their equity investments as a long-term play.
"The markets have been in a trading range and this may be the start of a rally. People could look at sectors such as pharmaceuticals or banking and financial services.
"They should look to invest with a perspective of 5-10 years, rather than taking a short-term view," he said.
Those running systematic investment plans should continue to do so.
Importantly, don't exit now at a time when one can make profits rise higher.
If you have too many mutual funds, you could consolidate your investments into a few diversified and mid-cap funds.
With the BSE Sensex at an all-time high, the markets have entered uncharted territory.
But given that the Indian economy is slowly beginning to gain ground and foreign investors continue to favour India, it's unlikely that markets could change course on the downside, notwithstanding small corrections.
It's best to hold on and buy selectively.