After a two-decade lull, gold smugglers seem to be back in business in India, thanks to recent hikes in import duty on gold — from about one per cent to eight per cent in 18 months.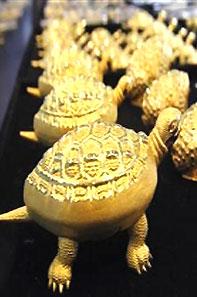 In the April-June quarter of this financial year, seizure of smuggled gold hit Rs 59.82 crore (Rs 598 million) — an increase of 365 per cent over Rs 12.86 crore in the same period a year ago. In volume terms, the increase would be even higher, because the average gold price in the quarter came down 6.6 per cent from that in the same quarter last year.

Seizure of the yellow metal in 2012-13 had doubled from the previous year to Rs 99.34 crore (Rs 993 million). This year, revenue authorities expect this to rise 150 per cent over last year to around Rs 250 crore (Rs 2.5 billion).
Further spike in seizures is expected in the coming quarters on the back an increase in import duty in June — from six per cent to eight per cent — as well as the Reserve Bank of India's (RBI's) recent measures to curb gold imports.

"This year, in the first quarter itself, we have seized almost 60 per cent of what was seized in full last year. If the trend continues, this year's total seizure could easily be two-and-a-half times of last year," a revenue official, who did not wish to be names, told Business Standard.

The rise in illegal imports of the yellow metal has caught the eye of the finance ministry, which is studying the impact of rise in import duty on gold and contemplating measures to address the problem. The vigil on all airports, especially with flights originating from the West Asian countries, has been stepped up. "We are collecting a lot of intelligence and focusing on illegal imports of gold," said the official, adding that gold had replaced narcotics as the biggest smuggled item in value terms in the past few months.

The government might not be in a position to roll back the duty increase at the moment because the wide current account deficit is a bigger worry. Customs officials have sought more powers and stricter punishment for offenders. But that will need amendment to the law.
Gold imports have come down from 162 tonnes in May to about 31 tonnes in June. However, much of the decline might just have been brought into India via the illegal route.
According to rough estimates, only 5-10 per cent of smuggled gold is caught by authorities, while the rest manages to get into the country unnoticed. Another estimate suggests 10 per cent of the total gold coming into the country last year came through unofficial routes.