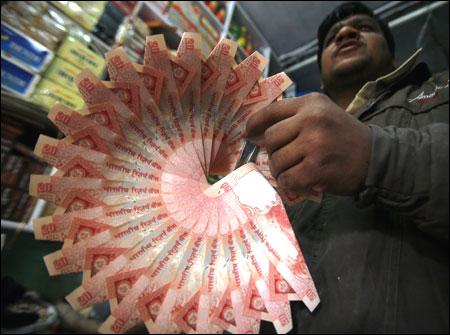 Rating agency Crisil said corporates, especially those in the auto, aviation, consumer durables and oil sectors, will be "severely impacted" by rupee depreciation due to large overseas debt and limited hedging.
Additionally, the depreciation, which has seen the rupee lose over 12.5 per cent since April to reach historic lows against US dollar, will also push input costs, Crisil said in a note.
"Corporate India had forex debt outstanding of over $200 billion as of March 2013, of which close to 45 per cent is short-term debt. Moreover, only half their forex exposure is hedged," Crisil Research president Mukesh Agarwal said.
He said the current spate of depreciation and increased volatility has reduced the benefits of borrowing in the low-interest environment overseas.
The rupee has been sliding since May 20, ever since an announcement by the US Federal Reserve that it may pull back its liquidity-infusing government bond buys as the domestic employment situation improves.

The rupee touched a lifetime low of Rs 61.21 to a dollar earlier on Monday, forcing the central bank and capital markets regulator Sebi to announce steps to curb speculative trades in currency derivatives.
It gained during today's session and closed at 59.65 against the dollar -- second day of rise. Automobiles, auto components, airlines, consumer durables, oil marketing companies, and fertilisers will be impacted the most by the rupee fall.
Export-oriented businesses like IT companies, pharmaceutical and ready-made garment exporters, crude oil producers and pure-play refineries may benefit.