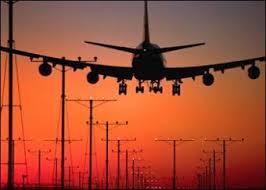 The Directorate General of Civil Aviation on Friday refused to allow a private aircraft to take off from Delhi for violating safety norms.

It also dismissed a Reliance Industries' pilot for not carrying his license while on duty. In Mumbai, the aviation regulator officials held up two flights on Friday -- one of L&T and the other of Poonawalla Aviation company -- on the same grounds, DGCA sources said.

In Delhi, a Hawker 800 XP of SRC Aviation, which was to fly to Colombo, was not allowed to take off for several hours as DGCA officials found several safety violations, like absence of life jackets or minimum equipment list, sources said.

Similar violations were also found in the Falcon 900 plane of Poonawallah, which landed at Mumbai from Agra, they said.

The L&T's aircraft also reportedly had safety issues.

The action comes at a time when private planes and helicopters are being heavily used as charters to fly political leaders
across the country on poll campaign.
About a week ago, DGCA officials conducted surprise checks and grounded a Reliance Industries-owned 14-seater Falcon 900EX.
It had also suspended the Falcon's pilot.
The regulator recently issued show-cause notices to SpiceJet for performing dance on board a flight to celebrate Holi.
A 13-seater Global Express BD 700 aircraft (VT-JSB), owned by the Jindals, was held up by DGCA for not carrying operations' manuals or the lists of safety and emergency equipment on board.
DGCA had, a month ago, grounded a United Airlines Boeing 777 aircraft in Mumbai after engineers found its right engine cover badly damaged.
Following the downgrade of Indian aviation safety system by the US Federal Aviation Administration on January 31, the DGCA has been conducting such surprise checks on a regular basis, apart from taking other action so that it can restore its top-most safety rating as soon as possible.
The sources said the DGCA has inducted a large number of flight inspectors, a major condition that was highlighted by the FAA.