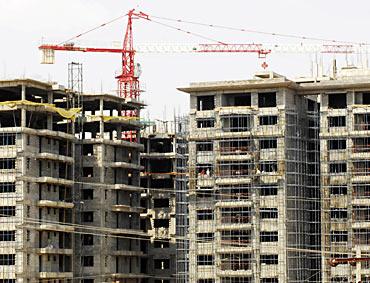 The lacklustre real estate sector is unlikely to revive soon after the new government takes charge.

Experts are looking at a timeframe of anything between 12 and 18 months from the time of the new government for concrete signs of revival.

That too is conditional.

An upswing in the realty sector will be possible only if the regime is not a cocktail of parties, point out experts.

The 2014 Lok Sabha election has been different from many of the previous ones as the takeaway from real estate into election economy has been lower than other times.

This is because of a stricter vigil by the Election Commission on expenditure related to polls, according to a Gurgaon-based broker and analyst.

Incidentally, the commission increased the limit on expenditure per constituency this time to a maximum of Rs 70 lakh (Rs 7 million) from Rs 40 lakh (Rs 4 million) earlier, attempting greater transparency.

Politicians have breached the spending cap even this year, but by much less than during previous elections, it is believed.

The real estate-election modus operandi works like this.


Around six to eight months before polls, money goes out from builders to politicians in the form of loans.
Immediately after polls, some of the money comes back into the system through investments in real estate, which triggers a revival in property market.
"Since the money withdrawn has been less than usual this time, re-infusion into the sector will be limited," according to a brokerage firm.
A cartel could jumpstart the realty market, but it may not result in a revival, say experts.
Anshuman Magazine, chairman and managing director, CBRE India says if the poll outcome is a strong government, the sentiment will improve.
"But unlike the stock market, real estate cannot bounce back on sentiment alone," he says.
"Economic fundamentals must improve and interest rates must come down for demand and revival in property, he adds.
However, he cautions that if corporate land deals come under the scanner, it will hit the realty market.
Agrees Anshul Jain, chief executive officer of DTZ India, a prominent consultancy.
Positive sentiments will not create immediate liquidity in the residential market, he says.
"It will take 12-18 months for investors to come in."