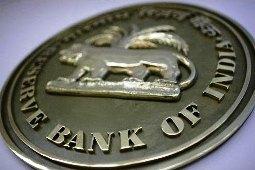 Global financial firm Goldman Sachs said on Monday it expects the Reserve Bank of India to hike key rates by 25 basis points in its next month's policy review to tame the high inflation.
"We expect the RBI to hike policy rates by 25 bps in the March 17 policy meeting and by a cumulative 100 bps in calendar year 2011," Goldman said in a research note.
Inflation declined marginally to 8.23 per cent in January from 8.43 per cent in the previous month, as prices of certain commodities like wheat, pulses and sugar eased, although essential items like onion and other vegetables continue to remain dearer.
However, it is still above the comfort zone.
The RBI is scheduled to come out with its mid-quarterly review of monetary policy on March 17.
The central bank has raised rates seven times since March 2010 to fight inflation.
At its third quarterly review last month, the Reserve Bank of India revised its inflation estimate to 7 per cent by March-end from the earlier 5.5
per cent.
The RBI also hiked short-term lending (repo) and short-term borrowing (reverse repo) rates by 25 basis points each.
On Monday, the Prime Minister's Economic Advisory Council also said the Reserve Bank may take further monetary tightening measures to tame inflation.
"RBI will have to take a view looking at the level of inflation. It is still at an uncomfortably high level.
"Some action, continued action, by the RBI (to tighten monetary policy) may be required," Prime Minister's Economic Advisory Council Chairman C Rangarajan had said.
Goldman further said it has raised inflation estimate for next fiscal to 6.7 per cent from 6 per cent previously, due to recent upside surprises in agricultural prices, rising input and output price expectations and higher global commodity prices.