The RBI will base rate cut decisions on the current account position in addition to inflation, governor Duvvuri Subbarao said on Wednesday.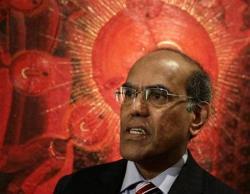 On Tuesday, the Reserve Bank of India (RBI) cut its key repo rate for the first time in nine months by 25 basis points, comforted by a drop in headline as well and core inflation, and the government's effort to curb its spending.

However, a record-high current account deficit, a widening fiscal deficit and suppressed inflationary pressures are likely to limit the room for further monetary easing.

"We will take into account what the current account deficit is. It will not be driven just by the inflation number or the inflation trajectory," Subbarao told analysts in a post-policy conference call.

A
high current account gap weakens a currency. For a country like India that imports about 80 percent of its oil, it pushes up domestic fuel prices and adds to inflationary pressure.
India's current account deficit widened to a record high of 5.4 percent of gross domestic product (GDP) in the September quarter as export growth slowed more sharply than imports, with a similar gap expected in the December quarter.
Subbarao said the current account deficit in 2012/13 would be significantly higher than in 2011/12, and that would have to be factored into monetary policy.
For the fiscal year that ended in March 2012, the current account deficit was 4.2 percent of GDP.
The RBI also cut banks' cash reserve ratio, or the proportion of deposits lenders must maintain with the central bank in cash, to 4 percent from 4.25 percent on Tuesday.