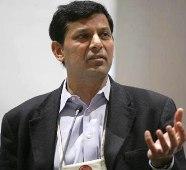 Chief Economic Advisor Raghuram Rajan on Monday suggested a three-pronged strategy, including a confidence inducing Budget, to push growth which is estimated to decline to 5.7-5.9 per cent in the current fiscal.

"We can not be satisfied with this (5.7-5.9 per cent) rate of growth. So, we are not at the end of set of steps we need to take. . . we are at the end of the beginning.

"Further steps include a good confidence inducing budget, speeding up clearance for projects, and further steps in capital market reform," Rajan said.

He was briefing reporters on the Mid Year Economic Analysis which was tabled in Parliament on Monday.

The mid-year analysis lowered the growth projection for the current financial year to 5.7-5.9 per cent from 7.6 per cent estimated earlier.

Economic growth had fallen to a nine-year low of 6.5 per cent in 2011-12.

The growth, Rajan said, was likely to show improvement in the second half to around 6 per cent from 5.4 per cent in the first half (April-September) driven by factors like improved business confidence, corporate profitability, better industrial output numbers and moderating inflation.

"Strengthening of financial infrastructure is important.

"Improving corporate bond market is also what we need to do. Number of measures we need to take including the vibrancy of equity market, ability of equity market market to finance infrastructure requirement needs to looked at," he said.

Replying to a query on tax collection, Rajan said low corporate profitability is impacting revenue realisation.

"Corporate profit earnings are not growing at pace, it was growing in past. We hope we will start picking up once again and that should add buoyancy.

"(If) people are not making money as much as they were then clearly it is going to impinge on that kind of revenue," he said.
Image: Raghuram Rajan | Photograph: Reuters