Infosys on Wednesday said it is keen to acquire Thomson Reuters' healthcare business. "We are dating...not yet engaged", Infosys CEO and Managing Director S D Shibulal said at a press conference in Bangalore, "We need to understand each other.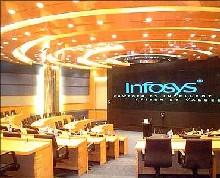 So, we are definitely...we have an intention to get engaged," he added. There have been reports that Infosys is close to acquiring Thomson Reuters' healthcare business for USD 700-750 million.

In June, Thomson Reuters said it planned to sell the unit (that had revenues of about USD 450 million in 2010),
which supplies healthcare data and analysis to companies, government agencies and health professionals. Shibulal said, "We have expanded our addressable space when it comes to acquisitions....".
The Bangalore-based, Nasdaq-listed Infosys today reported 9.72 per cent growth in consolidated net profit to Rs 1,906 crore (Rs 19.06 billion) for the second quarter ended September.
As on September 30, Infosys had Rs 18,601 crore (Rs 186.01 billion) in cash and cash equivalents, including investments in available-for- sale financial assets and certificates of deposits.