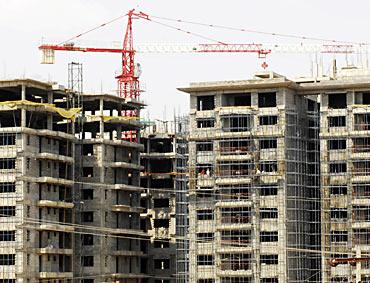 Private equity investment in the real estate sector grew by 26 per cent to Rs 4,716 crore (Rs 47.16 billion) in the first nine months this year despite slowdown in the property market, Cushman & Wakefield on Thursday said.

The global realty consultant attributed the rise in PE investments to increased attraction of institutional investors towards leased income generating office buildings.

"Total value of announced private equity transactions in the real estate sector for the first three quarters of 2013 were recorded at Rs 4,716 crore ($755 million), witnessing an increase of 26 per cent compared to the first three quarter of 2012 (Rs 3,750 crore/$704 million)," C&W said.

Rise in PE investment was despite the slow pace of growth in Indian real estate sector with net absorption in offices down by 15 per cent and subdued housing sales, it observed.

C&W listed various factors that have affected the growth in real estate sector such as slower GDP growth, inflationary pressure, volatility in forex and stock markets, upcoming elections and policy impact.

Apart from offshore funds, domestic capital allocated for income generating office properties is also being raised and deployed, it said in a statement.

About 65 per cent of the overall PE investment this year was seen in 3rd quarter at Rs 3,078 crore ($493 million).

While PE investment in office segment saw more than two- fold jump at Rs 2,476 crore ($397 million) in first three quarters of 2013 against year-ago period, the housing segment faced drop of 11 per cent at Rs 2,240 crore ($359 million).

"Investor interest in the leased office buildings has been increasing over the past few years with sector contributing 53 per cent of the overall investments in 2013 compared to 36 per cent and 30 per cent in 2012 and 2011,
respectively," it said.
There is a clear preference for investments in leased office spaces with over Rs 7,667 crore ($1.46 billion) invested in the segment since 2011, the consultant added.
Total number of deals in the first three quarters of 2013 declined to 21 down from 27 compared with same period in 2012 indicating an increase in average deal size by nearly 62 per cent to Rs 225 crore ($36 million).
Bengaluru witnessed the highest PE investment at Rs 1,979 crore ($317 million), an increase of 79 per cent compared with the same period last year.
Transaction value in NCR increased 20 per cent to Rs 612 crore ($98 million), all of which was in housing.
Apart from housing and office segments, C&W said that other asset classes such as retail and hospitality are witnessing weak investor interests as both are currently plagued by high inventories and sluggish demand.
C&W Executive Managing Director South Asia Sanjay Dutt said: "Despite a slowdown in the local real estate market, funds remain committed to India as a top investment destination with overall PE investment only expected to increase especially in income yielding assets."
Dutt said that with improving sentiments the deal momentum in the realty sector is expected to increase in coming year.
"Further, the move by Securities and Exchange Board of India (capital market regulator) to begin its consultation process for bringing in Real Estate Investment Trust has brought in a slight sense of optimism in the industry as developers," he said.
Even fund houses would be able to offload some of their assets for raising much needed capital and also getting much awaited exits, Dutt said.