The Cathay Pacific airline's introduction of a premium economy class on its Delhi-Hong Kong route is the latest instance of the segment, comprising service-and-cost-conscious travellers, making their presence felt in the Indian market.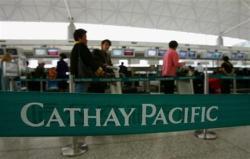 Positioned between the economy and business class in terms of pricing and comfort, it is becoming a preference on routes of more than five hours, for both business and leisure travellers.

Virgin Atlantic, British Airways, Air France and Turkish Airlines are among those offer premium economy on long-haul routes.

Says Tom Wright, general manager - South Asia, Middle East & Africa - for Cathay Pacific, "We have introduced premium economy in India for the first time; the product is also new to us and we're introducing it on the Delhi-Hong Kong route on A-330 aircraft, with 28 out of 242 seats. We see a big opportunity here. Eventually, we will introduce it on other routes. We expect to address a niche market of frequent flyers who want better service than economy, yet can't afford as
high as business class."
Says Stephen King, general manager, Virgin Atlantic-India, "We have seen strong demand in premium economy from India, with 65 per cent growth this year to both London and New York from Delhi. The best performing was our Delhi-Newark route, which saw 160 per cent growth versus last year. The premium economy market as a whole has also grown by more than 50 per cent on both routes."
Adding: "Premium economy is available to all our connections from Delhi and Mumbai, which beyond daily London and NY flights includes Boston, Washington, Miami and, in the summer, Chicago. Our premium economy constitutes 18 per cent of the cabin; that's over 3,000 seats a month."
The airlines' receptiveness to the cost-conscious and yet comfort-seeking client is evident in their target grouping. Said a British Airways spokesperson, "The typical World Traveller Plus (premium economy) passenger tends to be self-employed or work for small or medium-sized businesses. A number of leisure travellers, such as honeymooners, who want to treat themselves to a little extra luxury also make up an element of the cabin."