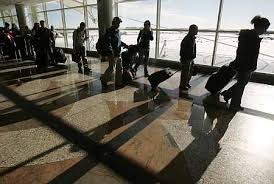 Reflecting growing business confidence, premium air travel has experienced a significant rise of over six per cent this January, with the highest growth being recorded within the Far East region, a latest analysis has shown.

Premium passenger numbers rose 6.1 per cent in January, a strong result up on the growth of 4.2 per cent in the same month last year, according to the analysis of premium air traffic carried out by global airlines' body IATA.

The number of passengers carried by an aircraft in the front rows -- comprising first and business class -- not only measure the gains made by an airline but also reflects growth in business activities in the regions concerned.

While business class travel on key markets like North Atlantic continued to accelerate, growing five per cent in January, the "largest contributor to the strong growth" was premium travel within the Far East which went up 7.2 per cent, the International Air Transport Association said.

Growth in Asian trade activity over recent months helped support international business and premium travel, it said.

Compared to slow trade growth since early 2012 which had put downward pressure on premium travel, in recent months, "there have been some signs of improvement in trade growth in regions like Europe, the US and Asia. "This has helped support the stronger growth we are seeing in business-related premium travel over recent months," it said.

The IATA study said there was also 'solid expansion' in premium passenger numbers on routes between Europe and Far East -- 5.2 per cent and Europe and West Asia at 9.8 per cent.
Image: Air travellers