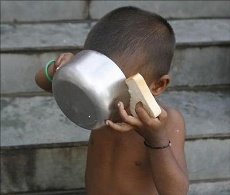 Former member of the Planning Commission, Bhalchandra Mungekar has told Business Standard that while poverty being reduced between 2004-05 and 2011-12 was a fact, the minimum estimates used recently to define poverty appeared to be unrealistic and, therefore, questionable.

"Between 2004-05 and 2011-12, the rate of growth was on an average 8.5 per cent per annum.

"It must have benefited people at large. Second, the inclusive policies of the United Progressive Alliance government, particularly the Mahatma Gandhi National Rural Employment Guarantee Act, had provided jobs to 400-450 people per annum at the wage rate ranging from Rs 130-160 per day.

"This had provided additional income to the poor. Third, due to relative scarcity of labour in rural areas due to MGNREGA, overall rural wage rates had increased, resulting in faster reduction of rural poverty, compared with urban poverty.

Between FY05 and FY12, rural poverty declined at 2.3 per cent per annum and urban at 1.69 per cent.

These rates of reduction were three times higher than rates at which poverty declined during FY94 and FY05," said Mungekar.

On the poverty estimates issued by the Planning Commission, Mungekar, who is a Congress member in the Rajya Sabha, termed it a 'routine exercise'.

He said these estimates had been prepared on the basis of the Tendulkar Committee's

recommendations.

"The committee had added expenditure on health and education in addition to per capita calorie expenditure.

"To estimate poverty for 2011-12 on the basis of National Sample Survey Office data, the Planning Commission took Rs 4,080 as monthly expenditure for a family of five in rural areas and Rs 5,000 in urban areas.

Taking into account the current rate of inflation, this minimum expenditure to define poverty appears to be unrealistic and, therefore, questionable.

But what the Commission has done is, it wanted to see the rate of reduction in poverty between 2004-05 and 2011-12.

On this basis, it found 137 million people crossed the poverty line during the seven-year period," he added.
Photograph: Reuters