With no clear signs of economic turnaround, Prime Minister Manmohan Singh on Monday promised more reforms in the coming months as he met captains of industry and business who pushed for bold decisions and quick implementation.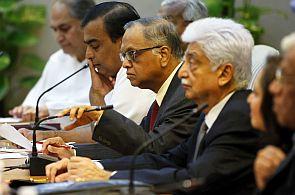 At a meeting of PM's Council on Trade and Industry, he assured India Inc of government's commitment to reforms and promised more measures as he heard the business communities' complaints and suggestions to boost investors sentiment.

The agenda focused on measures to correct the current account deficit, the industrial slowdown and measures to revive it, rupee depreciation and its impact on trade and industry, skill development and development of industrial corridors.

The overall sentiment was on the need to bring back the mood, converting decisions to action and taking the country back to a growth path of 8 per cent or more, a PMO statement said.

"The Prime Minister wanted a report to be submitted within one month on what can be done in the next 2-3 months," it said after the meeting that lasted about 3 hours.

Reliance Industries Chairman Mukesh Ambani said the industry believe in India growth story, a sentiment echoed by Bharti Group chief Sunil Mittal, who also wanted the government to take "brave and bold" in taking decisions.

The industry will rise to the occasion, Mittal said, according to sources.

The statement said the Prime Minister invited industry captains
to give suggestions to improve the economy and remove the mood of pessimism that has unnecessarily spread in some quarters.
Finance Minister P Chidambaram and Commerce and Industry Minister Anand Sharma briefed the Council on the government's thoughts on the agenda.
FICCI President and HSBC India head Naina Lal Kidwai said industry wanted quick implementation of decisions.
Noted industrialist Rahul Bajaj said the pessimism in the economy was due to regulatory bottlenecks and demanded their removal at the earliest.
ICICI CEO Chanda Kochhar and HDFC Chairman Deepak Parekh, Infosys Mentor and Founding Chairman Narayana Murthy, Wipro head Azim Premji were among others who attended the meeting.
The Council also discussed raising resources by selling SUUTI and shares in Balco and HZL, besides bringing offshore rupee market on shore.
On CAD, the meeting discussed raising duties on consumers and luxury goods, ways of reducing gold imports and cutting conditions on FDI, besides on having a sovereign bond issue.
For reviving growth, the discussion were on removing bottlenecks in pharma sector, moratorium on loan re-payment of delayed projects, boosting domestic electronic manufacture and using PSU lands for industrial park.
Image
:
Rahul Bajaj, chairman of the Bajaj Group, Mukesh Ambani, chairman of Reliance Industries Limited, Infosys founder NR Narayana Murthy and Wipro Chairman Azim Premji (L-R) attend a meeting with India's Prime Minister Manmohan Singh (not seen) in New Delh.