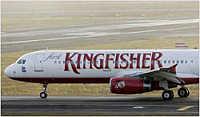 The financially strained Kingfisher Airlines declared a partial lockout after it was forced to stop flying altogether, as its engineers and pilots decided to stay away from work due to non-payment of their salaries since March.
As no Kingfisher flights took off across the country (nearly 80 were scheduled to), Civil Aviation Minister Ajit Singh threatened the airline with closure if something was found amiss on the safety front.
The airline has decided flight operations would be suspended for three days, until Thursday.
In a statement, it said: "Following a series of protracted and unabated incidents of violence, criminal intimidation, assault, wrongful restraint and other illegal acts, including refraining from attending work, by a small section of recalcitrant employees, the management has been forced to declare a partial lockout at the airline, effective immediately. With the safety of passengers in mind, the company is left with no other option but to take firm and decisive steps."
Speaking to reporters, the aviation minister said: "This is the first time that a safety issue has come up; earlier there were issues about salaries.
"Till the certified engineers don't certify the air-worthiness
of Kingfisher aircraft, the DGCA won't allow them to fly."
Singh added: "If there is a safety issue with Kingfisher, we will close it down".
The DGCA (directorate general of civil aviation) has also summoned the company's top executives, including the CEO for a meeting tomorrow on the growing financial problems.
The development comes just weeks after the government liberalised foreign direct investment in the sector by permitting foreign carriers to invest up to 49 per cent in domestic ones.
The move was expected to bail out the ailing airline and its promoter Vijay Mallya said it was in talks with foreign carriers to rope them in as strategic partners. Mallya is said to be in London.
In Mumbai, pilots were huddled in meetings and were expected to press their demands with the company's chief financial officer later in the day.
The pilots are seeking at least three months' salary but a section among them is demanding payment of all pending dues.
However, insiders say the talks did not work out as the company refused to give any assurances. Director General of Civil Aviation Arun Mishra said he was monitoring the situation closely.