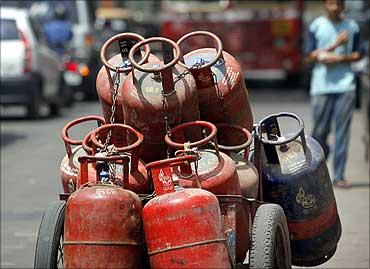 A Parliamentary Panel has "deplored" the government for capping the supply of subsidized LPG to 6 cylinders per households, saying that such restrictions should not be placed on people having income below a threshold.
It has asked the government to review and amend the decision in line with the panel's recommendations.
The Standing Committee on Petroleum & Natural Gas, headed by Aruna Kumar Vundavalli, said it had previously recommended ending supply of subsidised cooking gas (LPG) cylinders to rich and affluent sections, who it described as people having annual income more than Rs 6 lakh and those holding constitutional posts and public representatives like MPs and MLAs.
The Oil Ministry decided to cap the number of subsidized LPG cylinders to 6 per year for all domestic households, the panel observed.
"The Committee deplored the move of Petroleum Ministry to protect the decision of the government universally capping the availability of LPG cylinder at subsidised price to 6 cylinders per annum without any income stipulation," said the panel's report tabled in Parliament.
"The Committee desires the said decision of universal capping of availability of subsidised LPG cylinder to be urgently reviewed and amended appropriately in line with the recommendation made by this committee," it added.
The panel said the subsidy on LPG cylinders should be more targeted and asked the ministry to start collecting information about their customers to facilitate decision to better target subsidy.
It appreciated the move to ask LPG consumers to fill Know Your Customer (KYC) forms.