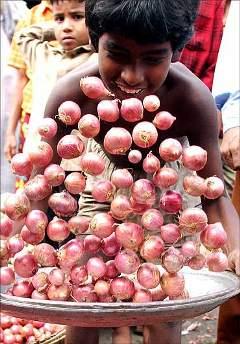 Onion prices have started a downward trend but there is no big relief as yet for consumers.

Intermittent rainfall in the growing regions and key marketplaces have kept these high.

Fresh arrivals from Hubli and Bangalore have started in small quantities, joined by imports from Afghanistan, improving the supply at wholesale markets.

Experts feel more than the demand-supply issue, the market sentiment is not allowing prices to come down.

Notably, at Lasalgaon in Nashik district, the largest wholesale market in the country, prices touched a recent low of Rs 3,021 a quintal on October 1, the lowest since August.

However, the fall in prices was temporary, as these surged to Rs 4,100 a quintal on Monday.

Arrivals from onion pockets such as Pune and Ahmadnagar have not started in full swing.

"Prices have fallen by around Rs 25 a kg from its peak levels last month. But the sentiment
is creating fluctuations in prices.
"We expected rains to stop by September-end but that is not ending. The new crop has started arriving but in small quantities," said Ashok Walunj, director of the APMC centre at Vashi, Navi Mumbai.
National Horticultural Research and Development Foundation data showed arrivals remained thin, in the range of 1,600-3,000 qtls at Lasalgaon in the first week of this month.
"The prices are fluctuating due to inconsistent arrivals. Rains are unpredictable; therefore, arrivals are getting affected.
"By now, full-fledged arrivals should have started. But that has not happened," said an NHRDF official.
According to traders, after a small dip in the past few days, prices have stopped sliding. Traders say supplies are not matching the demand.
However, "even as the arrivals are affected, there is no requirement for further imports.
"The crop from Maharashtra and Andhra Pradesh is sufficient to meet the demand even in the festival season," said Walunj.