Gujarat State Petroleum Corp (GSPC) going solo in acquisition of British energy major BG Group's stake in Gujarat Gas Co Ltd (GGCL) was a result of oil ministry blocking its PSUs from joining the Gujarat government firm.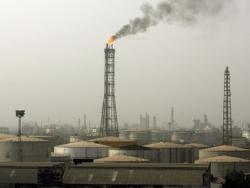 Originally, a consortium of GSPC, Oil and Natural Gas Corp (ONGC) and Bharat Petroleum Corp Ltd (BPCL) was to buy 65.12 per cent stake in the nation's biggest private gas distributor. BG Group too had shortlisted GSPC-ONGC-BPCL as a consortium for the stake sale.
Later, state-owned Oil India Ltd (OIL) too joined the consortium but when it came to making a final price bid, GSPC quoted Rs 2,463.8 crore (Rs 24.64 billion) on its own, sources with direct knowledge of the development said.
Oil PSUs were very much part of the consortium until 24 hours before the final bid but pulled out at the last moment after their parent ministry did not give them clearance.
Oil Ministry was vary of giving BJP-leader and Gujarat Chief Minister Narendra Modi any kind of advantage on the eve of elections in the state, sources said.
The ministry was upset about Modi claiming credit for gas pipelines that GSPC is to lay with oil PSUs from the east coast to the west and then up to Jammu. It felt majority of the money was being put in by oil PSUs but it was Modi who was getting all the credit, they said.
ONGC and BPCL had after the October 3 announcement of GSPC buying GGCL stated that they did not have time to complete all the formalities for putting the bid.
But the maximum that either ONGC or BPCL had to put was less than Rs 493 crore (Rs 4.93 billion), something which is well within their Maharatna board limits.
Sources said the oil PSUs are hoping to join GSPC after the assembly elections in the state are completed in December but the Gujarat government firm by all indications is unlikely to oblige them.
Originally, ONGC and BPCL were to have 50 per cent in the consortium with GSPC. GSPC was to hold the remaining 50 per cent. Later when OIL joined, ONGC and BPCL gave 5 per cent each out of their 25 per cent interest.
GSPC also agreed to give 10 per cent of its stake to OIL.
The consortium, thus, was to have GSPC as leader with 40 per cent interest and ONGC, BPCL and OIL splitting the rest equally.
But when PSUs did not join, GSPC on its own made the successful bid to BG Group Plc's majority stake in GGCL.
GSPC Distribution Networks Ltd (GDNL), a subsidiary of GSPC, will buy GGCL shares at Rs 295 apiece and it will pay Rs 2,463.8 crore (Rs 24.64 billion) to BG Group for the acquisition.
The sale price implied a 12 per cent discount to GGCL's market value on October 3 when the deal was announced.
As per SEBI regulations, GSPC has now made a mandatory open offer for buying an additional 26 per cent of GGCL.
GCCL supplies gas to more than 349,000 domestic, commercial and industrial customers and serves over 175,757 compressed natural gas (CNG) users. It has network of around 49 CNG stations in Bharuch, Ankleshwar, Surat and surrounding areas in Gujarat.