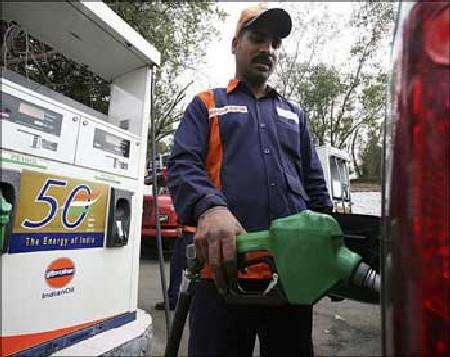 Indian Oil Corporation (IOC), Bharat Petroleum Corporation (BPCL) and Hindustan Petroleum Corporation (HPCL) are bracing for good times.
The oil marketing companies (OMCs) stand to gain from benign crude oil prices, near 13-month low levels of $102 a barrel and the ongoing diesel price deregulation.
These two will lower the underrecovery burden and bring some stability to earnings. The latter are heavily dependent on the timely receipt of subsidy for losses (underrecoveries) on selling fuel at subsidised rates.
Some benefits were also reflected in their June quarter profits, boosted by lower underrecoveries, higher marketing margins and foreign exchange (forex) gains on the reversal of currency swaps. For the quarter, IOC posted net profit of Rs 2,523 crore versus net loss of Rs 3,093 crore a year ago.
BPCL posted net profit of Rs 1,216 crore (Rs 12.16 billion) versus Rs 150 crore (Rs 1.50 billion) a year ago. HPCL posted net profit of Rs 46 crore (Rs 460 million) versus net loss of Rs 1,461 crore (Rs 14.61 billion) a year ago.
In the quarter, OMCs had Rs 2,100 crore (Rs 21 billion) of Rs 28,700-crore (Rs 287 billion) gross underrecoveries.
A year ago, these had Rs 2,300 crore (Rs 23 billion) of Rs 25,600-crore (Rs 256 billion) gross underrecoveries.
"Diesel deregulation is a matter of two-three monthly rises, if crude oil and rupee don't change much," says Rohit Ahuja, analyst at ICICI Securities. There could be more gains for the companies, says Ahuja. "We would expect the government to focus on containing LPG subsidies. It would be easier to reduce the cap on (subsidised) LPG cylinders to nine from 12."
Due to lower crude oil prices, underrecoveries are seen falling sharply.
Antique Stock Broking analysts estimate FY15 gross underrecoveries at Rs 90,000 crore (Rs 900 billion), down from Rs 139,900 crore (Rs 1399 billion) in FY14.
They expect diesel underrecoveries to come down to Rs 13,500 crore (Rs 135 billion) in FY15 from Rs 62,800 crore (Rs 628 billion) in FY14.
In case of the deregulation, the overall underrecoveries will reduce 40 per cent by FY16, estimate analysts.
The adoption of Direct Benefit Transfer for LPG and kerosene will lower cooking fuel underrecoveries.
Diesel underrecoveries had fallen to Rs 1/litre from Rs 4.4/litre in May 2014 after the correction in crude oil prices.
Full diesel price deregulation will result in lower interest costs as well as boost marketing margins 20 to 22 per cent, rubbing off favourably on profits and return ratios.
OMCs will be valued by the Street based on their core business' strengths and weaknesses after the deregulation, say experts.
In the quarter, marketing margins rose three to four per cent over FY14 to Rs 4,300-4,600 a tonne, estimates Amit Rustagi, oil and gas analyst, Antique.
He expects margins to stay above Rs 4,000 a tonne for FY15 and FY16. Maintenance shutdowns impacted gross refining margins (GRMs) and forex gains. Lower debt (and interest costs) improved overall profits.
Analysts say investors could buy on corrections as larger benefits will reflect from the second half of FY15. Bloomberg consensus pegs the average target price at Rs 366, Rs 639 and Rs 440 for IOC, BPCL and HPCL, respectively, indicating an upside of six per cent each from current levels.
HPCL stands to gain most from the deregulation. A turnround of its Bhatinda refinery (12 per cent to HPCL's sum-of-the-parts) is crucial. The refinery made loss of Rs 3,000 crore (Rs 30 billion) in FY14 and analysts expect it to turn round in two years.
Analysts are enthused by BPCL's upstream foray and have re-rated the stock in the past couple of years.
The company plans to expand its refining capacity 40 per cent to 31 million tonnes a year. IOC's GRMs are likely to improve after the commercialisation of its Paradip refinery, also the most complex public sector unit-owned refinery in India. But weak polyester intermediate margin is a key pressure point for IOC.