The National Skill Development Corporation (NSDC) said it will provide funding to Gurgaon-based Indian Institute of Skill Development to train 2.4 lakh youngsters across the country over next 10 years.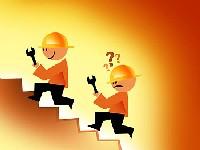 As part of the deal, NSDC, a Ministry of Finance initiative, would provide Rs 12 crore by way of a loan to IISD for the project.

This would include training in the automotive and light engineering, building and construction, real estate and retail segments.

"We are pleased to be associated with IISD because of its experience in the skill development arena and are hopeful that it would encourage other organisations engaged in similar activities to form partnerships with us," NSDC Chairman M V Subbiah said.

The project will cover seven states and training would be imparted to school-dropouts in 50 centres across the country, including 18 government-run Industrial Training Institutes (ITIs).

IISD will tie up with industry chamber CII for placement, certification and the identification of faculty for the project. NSDC, formed in 2009, is a joint venture between the government and industrial associations for developing skilled workers.
It seeks to train at least 1.2 lakh people this fiscal, the first full year of its operation. NSDC has a mandate to train people in 21 focus sectors identified by the government, through funding of training ventures of profit and not-for-profit organisations.

The body was set up under the Centre's 11th Five-Year Plan with the objective of creating a pool of skilled people in line with the requirement of the industry, trade and service sectors.

It had received seed capital of Rs 1,000 crore from the government at the time of formation.

In September last year, NSDC entered into a joint venture with Bharti Enterprises' associate company Centum Learning, which aims to provide training to 1.15 crore youths by 2022.

It has also entered into agreements with other companies including IF&LS for imparting vocational and technical skills to youngsters.