NMDC Ltd has decided to set up its second steel plant in Chhattisgarh and is in talks with two companies to form a joint venture. One of them is Tata Steel.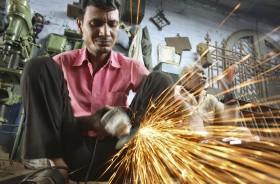 "We have decided to set up a two-million-tonne steel plant in Chhattisgarh, apart from the three-million-tonne plant that we are working on," Chairman and Managing Director Rana Som said on a sidelines of an industry conference in Mumbai.

He refused to name the partner. "I am not going to announce the name right now. All I can say is that it is a two-million-tonne steel plant and will be set up in a joint venture."

Two persons in know of the development confirmed that NMDC was in talks with two companies. One official said, "Tata Steel is one of the two companies."

Tata Steel did not respond to email queries.

NMDC and Tata Steel had signed a memorandum of association in January last year, which, apart from other things, said the two would build steel plants together.

Tata Steel, after signing the agreement, said, "Both NMDC and Tata Steel have agreed to co-operate to explore possibilities of entering into joint ventures for the purpose of acquisition, exploration and development of mines, extraction and processing of minerals, setting up integrated steel plants and any other business which is of mutual interest to both."

"I am confident that we will be able to make the announcement regarding the details, including the partner, during the current financial year," Som said.

The estimated cost of the plant will be Rs 10,000 crore (Rs 100 billion).

The under-construction plant is expected to come onstream by the end of 2013 or early 2014. NMDC is not looking to raise debt for this.

"We haven't decided as yet as we have enough cash. We are currently working out the amount of debt we will have to raise, if any, and its benefits," Som said.

NMDC will get additional mines for its two Chhattisgarh steel plants as well as the one it is building in Karnataka.

The company has already signed a deal with Severstal of Russia to set up a five-million-tonne steel plant in Karnataka.

"We have also signed an agreement with Severstal which says that the coking coal for the Karnataka plant will be supplied by it completely at a discounted price," he said.

Som said Severstal had been allotted a coking coal mine by the Russian government and NMDC's entire requirement would be met from there.

"It should be for the Chhattisgarh plant also, but that hasn't been finalised yet," he said.