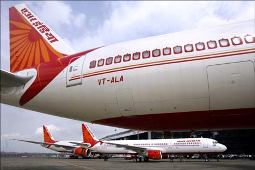 Ninteen pilots of Air India and its low cost subsidiary Air India Express have either resigned or taken voluntary retirement since January last year.

Four Air India pilots have resigned and five have taken voluntary retirement while 10 pilots of Air India Express have left their job, seven last year and three this year, since January 2012, Minister of State for Civil Aviation K C Venugopal said in a written reply in the Rajya Sabha.

He said there was no shortage of pilots in Air India but Air India Express was facing a shortage of 20 Commanders.

Replying to another question, the Minister said Air India would be facing a cash shortfall of around Rs 404 crore (Rs 4.04 billion) per month between October 2012 and March 2013.

However, the national carrier had managed to reduce its operating losses between April and September last year as compared to the corresponding period in 2011.

The airline had registered an operating loss Rs 2262.43 crore (Rs 22.62 billion) in April-September 2011 which reduced to Rs 1794.77 crore (Rs 17.94 billion) in the same period in 2012, similarly its cash loss reduced from Rs 3214.95 crore (Rs 32.14 billion) to Rs 2600.56 crore (Rs 26 billion) in April-September 2012
compared to the corresponding period last year.
Venugopal said that the government has infused a total of Rs 9,200 crore (Rs 92 billion) from financial year 2009-10 to till date.
Government has infused Rs 800 crore (Rs 8 billion) in 2009-10, Rs 1,200 crore (Rs 12 billion) in 2010-11, Rs 1,200 crore (Rs 12 billion) in 2011-12.
It has made an infusion of Rs 6,000 crore (Rs 60 billion) for 2012-13 against the proposed Rs 11,014 crore (Rs 110.14 billion).
In 2013-14 Air India would get Rs 3,560 crore (Rs 35.6 billion), in 2014-15 Rs 3,441 crore (Rs 34.41 billion), in 2015-16 Rs 3,394 crore (Rs 33.94 billion), in 2016-17 Rs 3,016 crore (Rs 30.16 billion), in 2018-19 Rs 2,587 crore (Rs 25.87 billion), in 2019-20 Rs 2,599 crore (Rs 25.99 billion), in 2020-21 Rs 3,314 crore (Rs 33.14 billion) and in 2021-22 Rs 2,082 crore (Rs 20.82 billion), he said.